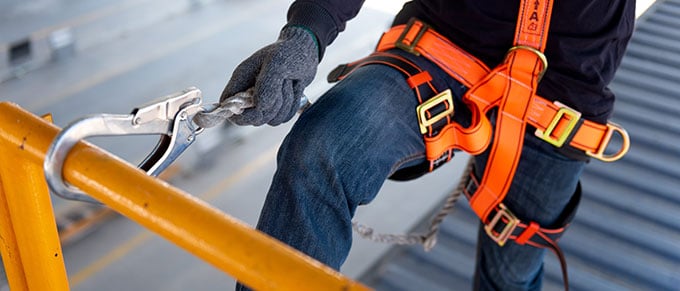 Roofing can be dangerous work – not just for the work crew but for anyone in or around the jobsite. Falls in the workplace are the #1 reason for workplace fatalities, including workers who fall from roofs, ladders, scaffolding, and construction job sites. In fact, there are over 350 fatal falls and over 1,000 construction-related fatalities each year.
Some of our worksites have equipment weighing thousands of pounds, and our work is often done in challenging weather. These conditions allow zero room for error. This is why at Roberts Roofing safety is our first priority, every day.
Being transparent with our customers about our safety practices is in everyone's best interest. We would be happy to discuss our annual investment into hours of training to ensure everyone on our team is following the highest level of safety protocol on every job – no matter how big or small the job is, and no matter how short or long the duration of the work.
Here are some of the ways we bring a safety focus to every Roberts Roofing job:
Regular training. We bring our entire team in every two weeks for roofing safety and potential workplace hazard demonstrations and discussions, toolbox talks, and to discuss trends in roofing materials, techniques, training, and equipment.
Specialized training for supervisors. Our supervisors are trained themselves to be trainers in a variety of equipment and hazard protection, including power lift trucks, aerial work platforms, torch application and fire safety.
Certification and Licensing: Our crane and lift operators are trained, licensed, and certified in the equipment we operate. This involves regularly sending operators to updated training classes to stay current on the latest developments in equipment and operations.
OSHA Guidelines: Protecting roofing workers per The Department of Labor's Occupational Safety and Health Administration's standards is part of Roberts Roofing's education and training. We vigorously follow all OSHA standards and practices on every job.
Fall Protection: We intensely train and practice for all aspects of fall protection including:

Ladder safety, which includes securing ladders, always having two people for one ladder, and placing them away from vehicles and areas of foot traffic (sidewalks, doorways)
Rigging training for cranes and other lifting equipment
Harnesses – our roofers use a harness anchored to the roof field when working on roof edges
Signaling techniques

Assessment: Jobsite hazard evaluation starts with our very first visit. We note all unusual and potentially hazardous aspects during our comprehensive commercial building roof inspection:

Sharp or unprotected edges
Holes
Signs of wear that could be points of weakness/fall hazard
Skylights
Rotted decking, flashing
Areas of rust
Broken or damaged spouting

Planning: The safest way to conduct a commercial roofing job involves planning it in advance, and preparing for all kinds of unexpected complications and challenges along the way. Here's an example of how we approached a specific job with a very challenging roof that could have posed a major safety hazard for our workers. But with proper planning and careful work, the job was completed safely and on time. Before a roofing crew is scheduled, we prepare the area and make sure we understand where potential hazards might be on the roof, such as gas or electric lines.
Perhaps the most important aspect of safety on any job is communication. Our teams know how to work together and communicate properly to ensure that nothing is done before safe working conditions are confirmed. With over 40 years of experience, we are a well-oiled team that knows how to get commercial roofing jobs done right – and done safely. If you want a roofing company that puts safety first, contact Roberts Roofing online to schedule an appointment, or call us at 440-946-2233.