For many industries across the nation it has become challenging to attract and retain committed employees. That certainly holds true for the commercial roofing industry. At Roberts Roofing Company, where our team tends to grow and stay together, we know that working as a commercial roofing contractor can not only be a viable job opportunity but a rewarding career choice.
WHY CONSIDER A COMMERCIAL ROOFING CAREER AT ROBERTS ROOFING COMPANY?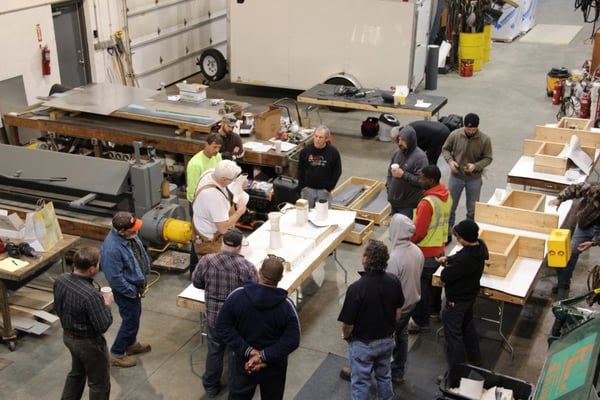 Variety: You can enter the field of commercial roofing in roles ranging from laborer to equipment operator to sheet metal fabricator. At Roberts Roofing, you're never boxed in a particular role—we'll encourage you to test the water in a variety of positions and acquire new skills along the way. The sky's the limit!
Professional training: Speaking of new skills, you will benefit from ongoing training—both in the classroom and on the fly. As a commercial roofer certified by some of the largest roofing manufacturers in the country, you will have the opportunity to learn the trade from some of the best in the field. And note: We take safety very seriously and regularly conduct safety training.
Novices welcome! We also welcome employees at all levels of experience—or none at all! Perhaps you've worked as a residential roofer or have never been on a roof at all. You will get all the training you need to excel in your trade.
Never boring: Instead of working indoors all day, think of the opportunity to be outdoors working on new job sites with the opportunity to find solutions to your customers' challenges. You'll also have the opportunity to work alongside other trades.
Rewarding: There is nothing more satisfying than seeing the direct results of the hard work you've completed as part of a supportive, committed team.
Benefits: Along with a competitive salary, our benefits package includes time off for vacation and holidays; health insurance; bonuses; a 401(k) plan with company match and profit-sharing.
Family atmosphere: You spend a lot of time with your co-workers. One of the reasons our team members stay with Roberts Roofing as long as they do is the genuine interest in and support of one another.
JOIN THE ROBERTS ROOFING TEAM
Roberts Roofing is a premier local Cleveland roofing contractor seeking to add experienced, dependable, professional roofers, roofing foreman and roofing helpers to our field staff for Cleveland roofer jobs. We are a family run business and we highly value our employee family.
Additional benefits:
Long-term career opportunities
Competitive pay
Professional training
10% 401(k) match with profit sharing
Quarterly bonuses based on attendance
Paid holidays, sick days and vacation days beginning at one year of service
Roberts Roofing is a drug-free workplace. Only applicants of interest will be contacted.
APPLY NOW
Please complete our form below to apply for one of our open positions.