The Commercial Building Owner's Guide to Roof Repair and Maintenance
INTRODUCTION
With everything else a business owner has to worry about, it's easy to understand how annual maintenance of their commercial roof can fall by the wayside. However, the failure to find and correct minor roof defects and deterioration in their earliest stages is the greatest cause of roof damage—damage that could necessitate roof replacement far earlier than normal.
Professional roofing contractors, designers and manufacturers all agree that a yearly roof system inspection, including necessary wear and tear repairs, will prolong the life of your commercial or industrial building's roof. In fact, an annual maintenance and repair program can save your company thousands of dollars and greatly decrease the chance of devastating roof damage.

Roberts Roofing has assembled this guide to help building owners understand what to expect from their professional roofing contractors when it comes to repairs and maintenance, and offers ways to recognize early signs of damage.

The six chapters in this e-book are:
DOES MY NEW COMMERCIAL ROOF NEED MAINTENANCE?
Congratulations—you're the proud owner of a new car. Along with the owner's manual you receive a schedule for maintenance checks. As long as you follow that schedule, your car is covered for specific repairs within a given time period. Besides, you've invested a lot of money in the vehicle, so you also want to make sure it continues to run smoothly.
Just like an automobile, a new roof is a large capital expense. Think about it—you wouldn't spend $30,000 or more on an automobile and never get it serviced. To get the most value out of your commercial roof investment, you need to maintain it.
Most commercial roofs are designed to last 15, 20 and, in some cases, 30 years. These designations should not be interpreted to mean that the roof will not require maintenance for the stated period.
Manufacturer warranties require the owner to undertake periodic maintenance and repairs to maintain the warranty. Maintenance and periodic roof inspections will also increase the life expectancy of the roof system, even potentially beyond the warranty period.
Roofs that are not well-maintained will, in all probability, require replacement at or even before the end of the warranty period, at the owner's expense. Regular roof inspections can prevent costly problems from causes that are not covered by manufacturers' guarantees, such as damage from vandalism, damage caused by other contractors on the roof or even structural deterioration.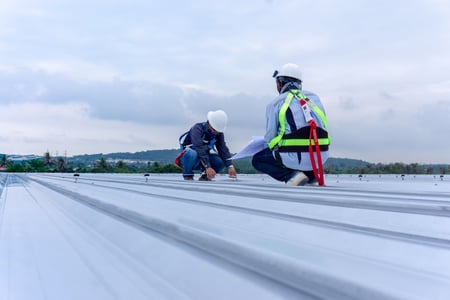 Biannual Inspections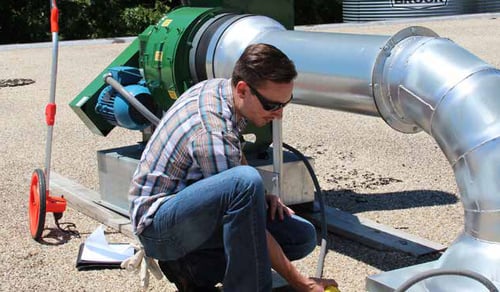 All commercial roofs, including new roofs, should be inspected every six months to ensure early detection of a problem. There are many external factors beyond your control that can contribute to damage—think in terms of severe weather, heavy foot traffic and accumulated debris from the surrounding area. Your contractor should look for signs of potential leaks, defects and threats from surrounding trees or other equipment and conditions that inhibit adequate drainage.
Regular Maintenance Extends Life of Commercial Building
An educational center had its facility completely reroofed over a 20-year period. The customer had Roberts Roofing perform inspections with annual maintenance work on the entire facility since the roof was completed. Minor repairs were done yearly, and many potentially damaging problems were repaired before causing major issues. Roof sections that were installed 22 years ago are still performing well, and we do not anticipate a need for replacement for at least 10 more years, if not longer. This yearly maintenance program has worked very well for the center and has saved them a great deal of money by extending the life of the roof, allowing the center to budget for much-needed projects in their community instead of spending those funds on reroofing.
Know Your Warranty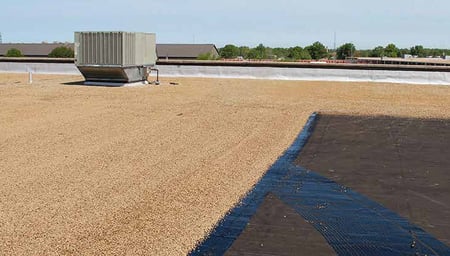 Get your manufacturer warranty in writing and be sure you understand what the warranty covers when your new roof is installed. Just as you would with a new automobile, keep a careful record of all your inspections and any repairs made—you'll be glad you did.
Careful maintenance of your commercial roof will identify issues before they become major problems. While you may incur some short-term costs to maintain your roof, investing in ongoing maintenance now will provide significant cost savings and add years to the life of your new roof. By conducting maintenance at regular intervals, you can have confidence that you are protecting all of your valuable assets inside the building.
Repair Rather Than Replace
Regular inspections and maintenance of your new roof will, in many cases, isolate specific problems that only need a repair. Why take the chance of letting something develop into a bigger problem that necessitates the need for a total roof replacement?
Roberts Roofing Company strongly recommends at minimum a yearly maintenance schedule for your new commercial roof system, as well as preventive maintenance to prevent problems before they occur. Once in the fall and once in the spring is a good rule of thumb for prolonging the life of your roof.
WARNING SIGNS OF COMMERCIAL ROOF DAMAGE
We always recommend that Northeast Ohio commercial building owners proactively look for signs of damage on their commercial roofs. By spotting a problem early, you could avoid spending thousands of dollars on major roof repair or replacement.
Here are five warning signs that might signal a need to call in a professional roofing contractor to inspect your roof:
1. Damaged Flat Roof Flashing
Note the metal strips that run along the edges of your roof. They secure your roofing materials and prevent water or debris from compromising your system. Is your flashing bent, rusting or otherwise damaged? If your roof flashing is not well-sealed there is a good chance that water can seep into your commercial roof system. By addressing this problem as soon as possible, you can either prevent or keep water damage to a minimum.
2. Cracked or Blistered Commercial Roof Surface
Check for any cracking, bubbles or blisters on your roof surface; this could be a sign of trapped moisture, which can lead to leaking. Blistering occurs when there are pockets of air or moisture trapped between the roof membrane and deck or between layers of the membrane itself. It's not a good idea to ignore because the blisters will worsen and lead to more serious problems.
3. Commercial Roof Leaks
Especially during foul-weather season, it's a good time to check for ponding or standing water. While it's normal to have some standing water after a storm, that water should drain or evaporate within 48-72 hours. If not, it can lead to major leaks and cause premature aging of a flat roof.
4. Interior Water Stains
Sometimes you can detect problems within your building. If you notice a water stain on the ceiling or walls of an upper floor, it's time to investigate the possibility of damage to your roofing system.
5. Mold/Foul Odors
Another red flag that you might spot inside your commercial building is mold or foul odors. This could result from water breaching your roofing system or perhaps the exterior of your building. Be sure to have a professional roofing inspector look for any problematic areas.
Remember, small problems can indicate much larger problems. It's better to catch them early when they can be addressed by a relatively simple repair. You should be able to count on your professional roofing contractor to perform year-round emergency commercial roof repair—even during or after inclement weather. Roberts Roofing has many clients who utilize our repair crews and have us inspect their roofs after severe storms, natural disasters and other catastrophes, such as fire, tornadoes or flooding.
WHAT SHOULD I EXPECT DURING COMMERCIAL ROOF MAINTENANCE?
Let's go back to the car analogy from Chapter 1. Just Like a car, there are various aspects of roof maintenance that are necessary to extending the life and quality of your commercial roofing system. Knowing what to expect from your professional roofing contractor will help ensure your roof is inspected for the signs of damage we mentioned in Chapter 2.
When Roberts Roofing Company performs seasonal commercial roof maintenance on a built-up asphalt commercial roof system, we first conduct a visual inspection to identify any areas that look problematic. This includes the inside of your building where large or multiple ceiling stains can indicate a serious problem. Roofs with gutters will need to be cleared of all debris. In some cases, we need to further inspect a problem area using special instrumentation. Our inspection is comprehensive, including the following: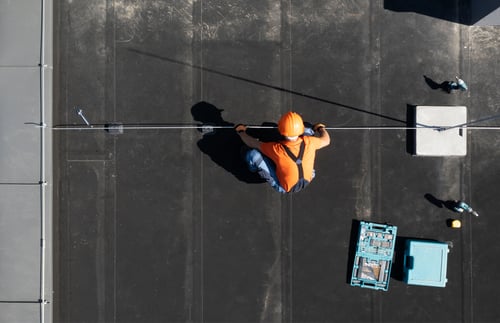 Soil stack leads, HVAC penetrations and skylights will be inspected for cuts or holes and resealed where required with appropriate materials.
Sealant voids in termination bars, counter-flashings and parapet caps will be touched up as required.
Tears, splits and breaks in the perimeter and internal membrane flashing systems and flashing strip-ins will be repaired with appropriate repair materials.
Visible membrane defects, which may allow water into the roofing system, will be repaired with the appropriate repair materials.
Check and re-secure drain bolts and clamping rings. Check strip-ins around drain leads and gutter flashings; coat with approved mastics if required. Make sure gutter downspouts are secure and free of any debris.


Given the freeze-thaw cycles we experience in Northeast Ohio, there are specific signs of damage we look for during the spring inspection. They include:
Loose seams, including edges and corners
Damaged fasteners
Bubbles in the membrane, punctured membranes or splits from freeze/thaw cycles
Loose flashing or seals around vents or drains
Soft or spongy spots in the roof field
Clogged or damaged drains and gutters
Signs of mold or algae
A word about recordkeeping: You and the commercial roofing contractor should keep records and full documentation of all maintenance that has been performed. Why is this important? If there is a warranty claim, the material manufacturer will contact the roofing company that installed the roof to see if regular annual maintenance has been performed—just like a mechanic would check to see if the oil has been changed if a car was having engine problems.
MAINTENANCE AGREEMENTS VS. ROOF WARRANTIES:
WHICH OFFERS GREATER PROTECTION?
Many building owners are unsure about who they should contact should a problem arise. For example, let's say you have a leak. You know you are only part of the way through your warranty. Do you call the manufacturer or your commercial roofer?
First, a bit of background. When Roberts Roofing issues a warranty, it comes directly from the manufacturer. Here's how it works: When a new roof is installed, the manufacturer sends a representative out to the site to conduct a full inspection. If anything needs to be adjusted, the professional roofing contractor does it at that time. Your repairs should be made at no cost to you. The only exception would be damage due to outside forces, such as a tree limb puncturing a membrane, or damage caused by an HVAC crew. Still, your roofer can make the repairs.
Maintenance Agreements
If you buy a new car that has a 3-year/36,000-mile warranty, but you never change the oil or have the car inspected, would you still expect the automobile manufacturer to honor the warranty? Not a chance. The same holds true with commercial roofs. It's not a matter of warranty vs. maintenance after all. Manufacturer warranties require periodic maintenance with repairs to maintain the warranty. If the manufacturer receives a call about a problem with the roof, their first call will be to your commercial roofer to find out if your company has been conducting regular maintenance.
The first thing you want to consider is the type of facility you own. Is it a major manufacturing facility with many rooftop exhaust fans and units that require constant foot traffic to maintain them? Is it a warehouse used for storing products, equipment or materials? Is it an office space where the comfort of individuals is a priority? Next, factor in your ownership intentions—do you plan to keep the facility indefinitely, or do you plan on selling in the near to immediate future? Finally, define your budgetary parameters. From there, you can evaluate roofing system types for potential inclusion in your overall project framework.
There are many options when it comes to selecting the right roofing system for your commercial or industrial facility. However, only two variants hold up the longest and provide the best value.
Know Your Warranty; Track Your Maintenance
Commercial roof warranties vary anywhere from one to 30-plus years—it all depends on the new roofing system being applied. It's always smart to have a written copy of your manufacturer warranty and to understand what it covers. As we addressed in the previous chapter, you will want to keep track of your inspections and any repairs that are made. At Roberts Roofing, we keep our customers' maintenance records on file at all times. We keep track of any repairs that need to be made over the course of your warranty.
The first thing you want to consider is the type of facility you own. Is it a major manufacturing facility with many rooftop exhaust fans and units that require constant foot traffic to maintain them? Is it a warehouse used for storing products, equipment or materials? Is it an office space where the comfort of individuals is a priority? Next, factor in your ownership intentions—do you plan to keep the facility indefinitely, or do you plan on selling in the near to immediate future? Finally, define your budgetary parameters. From there, you can evaluate roofing system types for potential inclusion in your overall project framework.
There are many options when it comes to selecting the right roofing system for your commercial or industrial facility. However, only two variants hold up the longest and provide the best value.
Lack of Maintenance Leads to Costly Results
Recently, a building owner called Roberts Roofing after noticing minor leaks and mold on interior walls. Since the roof was installed 10 years ago, the customer felt a repair was all that was needed. However, the roof had never been inspected after completion, and several matters had compromised the roof system:

Leaves and debris from surrounding trees had clogged one of the roof drains and caused damaging ponding.
Storms had caused tree branches to break open the perimeter wall flashings, resulting in the mold.
An HVAC company installed a new unit without calling a professional roofer. The seal was inadequate, causing damage to the roof and insulation.

These three issues caused a situation where a repair quote turned into a major roof replacement costing the owner tens of thousands of dollars more than he expected and robbing him of 10 additional years of performance from his original roof installation. If inspection with maintenance had been performed annually for several hundreds of dollars per visit, he could have saved tens of thousands of dollars.
Don't Sweat It: Consider an Annual Commercial Roof Maintenance Agreement
Weathering, deterioration and heavy foot traffic are just a few factors that can contribute to problem areas. In addition to the regular checks your facilities manager (if you have one) makes, be sure that a professional roofing contractor inspects your roof twice per year. By carefully examining all roof areas, from the perimeter to the center, the contractor will be able to spot signs of problems such as damaged flashing.
When you have an annual commercial roof maintenance agreement from a professional roofing company, like Roberts Roofing, you don't have to worry about remembering to call for your inspections—that responsibility falls entirely on us. We'll schedule the inspections ahead of time, always letting you know when the inspections will take place at your convenience. Regularly scheduled maintenance will catch any unexpected issues and address them immediately. Here's how they work:
All comprehensive maintenance contracts are designed for warranted and non-warranted roofing systems for a set fee.
A comprehensive maintenance contract can be combined with leak repair credit for an all-inclusive roof solution.
Every roof system should be protected by a maintenance contract as manufacturers' warranties do not always cover all roof issues that may arise.
Not only is a yearly preventive maintenance and repair program important, but the contractor you choose to work with is also paramount to the life expectancy of your roof. For example, Roberts Roofing has maintenance crews that hold up-to-date certification in roofing repair technique and training.
MANAGING YOUR ROOF DURING COLD WEATHER SEASON
No guide on commercial roof repair and maintenance would be complete without addressing Northeast Ohio winters and the havoc they can wreak on commercial roofs. Northeast Ohio winters can be hard on any commercial roof, no matter what shape it is in. For example, constant freeze/thaw cycles can lead to trapped moisture in seams that can eventually cause leaks. When drifting snow melts, it can create great pressure on the roof.
Overall, flat roofs are more susceptible to leaks because they don't allow snow to easily slide off. Additionally, ice can be a real problem on flashings, seams and downspouts. So, what do you do when you spot signs that your roof is leaking this winter?
The good news is that there are ways to temporarily address problems like these so that they don't lead to more costly repairs come spring. While access is obviously limited in the winter, there are a few quick fixes Roberts Roofing Company recommends to address winter leaks to buy you some time before your commercial roofer can provide a more permanent solution.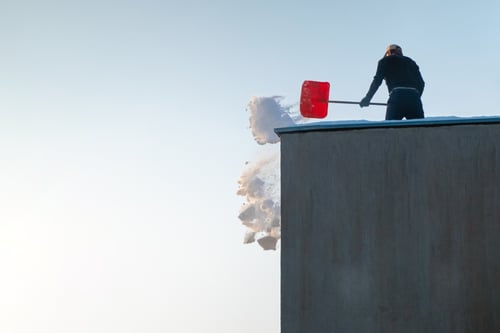 1. Manual Snow Removal: This might sound like a no-brainer, but let's face it—the more you let snow build up on your roof, the more susceptible your building will be to the problems we have identified above. Roberts Roofing is experienced in moving or removing snow from a problem area until a long-term solution is possible.


2. Tarps: It's a good idea to have large tarps on hand in case a problem arises when winter weather is too harsh for your commercial roof contractor to make an immediate repair. Tarps can be applied inside the facility to protect valuable and expensive equipment and furniture. If possible, tarps can be secured to rafters or other structural supports and divert leaking water to a better location.


3. Temporary Materials: Your professional roofer should be able to put down a temporary material that will stall or temporarily stop an active winter leak. The professionals at Roberts Roofing most commonly apply a variety of temporary materials that can slow or even stop a leak until we can apply a more permanent solution.
When our customers discover leaks during winter months, Roberts Roofing dispatches a professional to determine the best course of action for your particular issue.
HOW TO PROLONG THE LIFE OF YOUR COMMERCIAL ROOF
The quality of materials and workmanship that goes into a new commercial roof will go a long way in providing the performance that business owners want to get from such a large capital expense. Still, as the information in the previous five chapters suggests, there are many other factors that determine the actual life span of your commercial roof, such as regular inspections, quality repairs hiring the right professional roofing contractor—and even the weather.
If a roof is expected to last at least 20 years, but requires substantial repairs in its last several years, the life cycle costs increase. By investing in regular roof inspections you are able to take control of the life expectancy. Here are a few additional tips we recommend:
1. Don't procrastinate on repairs: There's really never a good time to spend extra money on making repairs—we get that. However, a small pool of water today can become an emergency tomorrow when the roof collapses.
2. Honor thy warranty: Take the time to understand everything in your warranty. Review it with your roofing contractor to make sure you understand what is and is not included and for how long. Finally, be aware that your contracts can be voided if you don't keep up with required inspections.
3. Protect the roof surface: You may have any number of contractors accessing your roof to install or provide maintenance to HVAC units, satellite dishes and electrical devices. If you provide walkways, railings and padding, you can keep workers away from sensitive areas where heavy foot traffic can cause damage.
4. Let water flow: Make sure there is adequate water runoff by clearing gutters, downspouts and drains.
5. Report storm damage: If you suspect damage from severe weather conditions, call your roofing contractor immediately. The good news is that there are ways to temporarily address these problems so that they don't lead to more costly repairs.
CONCLUSION
We hope this e-book has been helpful in addressing the proactive steps you can take to extend the life of your commercial roof. While every building owner hopes that their new commercial roof will last for decades to come, external factors can sometimes cause damage, especially when the roof hasn't been properly maintained or when the wrong system was selected for that particular roof.
Roberts Roofing Company has been a leading provider of innovative commercial and industrial roofing solutions in Cleveland, Ohio since 1981. We provide commercial repair, replacement and maintenance to serve companies of all sizes in Ohio and the surrounding region, offering a combination of technical expertise, custom solutions and quality workmanship for every project. To learn more, contact us using the form below, call us at 440-946-2233 or visit www.robertsroofing.com.