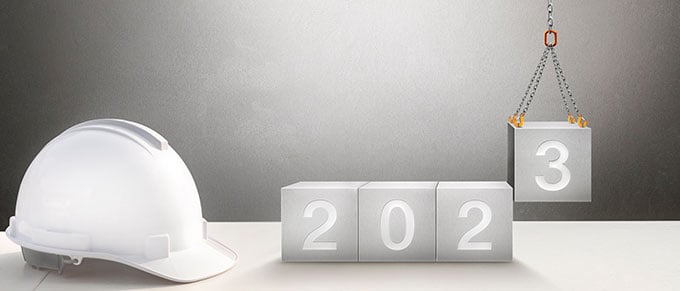 As we near the end of first quarter of 2023, we are closely following roofing business and economic trends to understand the impact supply chain and high material costs will have for our customers for the remainder of the year.
Our industry struggled with global challenges to the supply chain in 2022, driven by the lingering COVID-19 pandemic. Some roofing customers have experienced long delays in waiting for materials to become available. At the end of last year, 98% of equipment manufacturers said they were still experiencing supply chain issues.
We are finally starting to see the supply chain open up. We still may have long lead times for non-emergency roofing work, but things are starting to improve.
However, while an increase in supplies means more materials are becoming available for roofing work, cost of materials and lack of labor continue to be major challenges.
No Economic Slowdown
Despite continued attempts by the Federal Reserve to slow the pace of the economy, consumer spending continues to be high. There is continued demand for home improvement projects of all types, including roof repair, roof restoration and total roof replacement. With the increase in the price of eggs and other groceries, our material costs have also gone up dramatically, reaching a high point at the end of 2022 that was 14% higher than the previous year.
Labor Shortages
Along with the continued, steady increase in demand for all types of construction jobs, the industry as a whole is experiencing a massive labor crunch, with an estimated shortage of half a million construction workers projected for 2023.
Roberts Roofing is a family-owned business and we are always looking for hard-working people, including those new to our industry. There is no shortage of work or variety of jobs, and we offer training, competitive wages and benefits to our employees. We have several open positions at Roberts Roofing and encourage you to apply if you are job hunting.
Changing Times
Warehouses, retail building and office building construction are all down due to the continued push for remote work and the continued consumer preference for online shopping. This means a downturn in roofing work for these industries.
However, the manufacturing industry continues to grow, and the need for commercial spaces to produce manufactured goods (plants, factories) is on the rise, up around 44% since the start of the pandemic. This means more commercial buildings and commercial building roofs, which is great for our business but can make for a packed work schedule.
Economic conditions are compounded by strong and unusual weather patterns this spring, like snow in the west and a lot of wind and heavy rains in the Midwest. The roofing business sees no slowdown in sight.
What should I do about my commercial roof in 2023?
Prepare and Inspect
We recommend being extremely proactive in regular inspections and maintenance on your commercial roof. Preventing disasters is more important than ever with the slowly improving (but still unpredictable) supply chain, the increased price of materials and the labor shortage in our industry. If something is questionable or seems on the on the verge of needing attention, don't wait. Roberts Roofing conducts thorough roof inspections to identify any issues. This is particularly important after any major storm.
Repair or Restore
Our experienced team understands the challenges of budgets and higher prices. If a major repair or replacement is not in the budget, we will try to find roof restoration methods that can help you extend the life of your roof without breaking the bank.
Maintain
Regular, routine maintenance is critical to extending the health and life of your commercial building roof. We recommend at minimum two inspections per year to identify and address problems that may have occurred with your roof. Conducting regular maintenance is protecting your investment.
With over 40 years of experience, Roberts Roofing is a trusted partner to many Northeast Ohio businesses for their commercial roof maintenance, inspection, repair and replacement. Contact Roberts Roofing online to schedule an appointment, or call us at 440-946-2233.