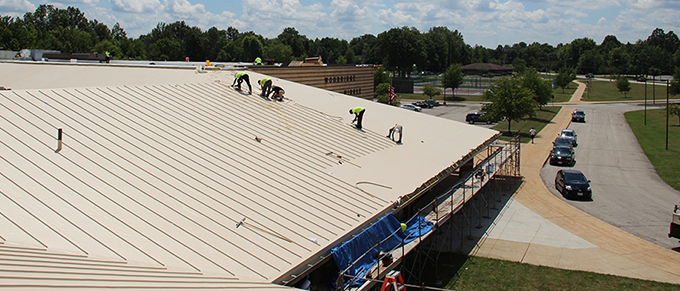 Roofing innovation and technology has progressed quite rapidly over the years. Aerial infrared moisture scans and remote-controlled drone surveys would have been considered science fiction 30 years ago. Roofers in the early 1980s hand-carried buckets of hot asphalt up a ladder, one pail at a time. And just think—safety regulations were virtually nonexistent back then.
Today, new roofing technology is constantly being developed and implemented. Some innovations become long-term trends, such as TPO single-ply and seam-welded membranes, while others turn out to be failures, like button system EPDM. Today, several trends are emerging in commercial and industrial roofing, one being drone technology.
See Related Blog: Five Advantages of Using Drones in Commercial Roofing
Drone usage isn't just for the tech savvy enthusiast anymore—your local commercial roofing contractors are getting in on the action. Camera-fitted drones allow contractors to view and monitor a roof from the safety of the ground, or even in their own truck. The drones can provide detailed photographs and full panoramic shots from high elevations not previously possible—and such photographs can then be used in marketing roofing systems, or to show a client the sheer scope and scale of a completed commercial roofing system. It is predicted that one day, special drones for the roofing industry will be able to take measurements and thermal scans of existing roof systems without anyone ever having to step foot on the roof.
Another valuable piece of technology is infrared moisture scans. A pilot can fly a plane fitted with special thermal equipment capable of mapping and detecting moisture trapped in a roofing system from the air. This is very important if a commercial building owner simply isn't sure just how much insulation in his existing commercial roof system is saturated, and therefore compromised, necessitating a total roof replacement. Infrared is already fairly common by today's standards, and it won't be long before drones are commonplace in the commercial and industrial roofing industry.
In the future, watch for new technology that is focused on greater efficiency, such as energy-saving techniques, as well as environmentally friendly materials and processes. Other technology will focus on reducing costs for customers through greater detection of leaks and defensive measures against damage from threatening weather systems.
Commercial building owners will need to be vigilant in focusing on the long-term life of their roofs by working with commercial and industrial roofing contractors that use highly effective design, construction and maintenance practices. At Roberts Roofing Company, we remain committed to staying on top of commercial roofing advances that help us work more efficiently on behalf of the customers we serve.
Do you have additional questions about your commercial or industrial roof? We welcome you to download our free e-book, The Commercial Building Owner's Guide to Roof Replacement, to learn more.
Roberts Roofing Company has been a leading provider of innovative commercial and industrial roofing solutions in Cleveland, Ohio since 1981. We provide commercial and industrial roof repair, replacement and maintenance to serve companies of all sizes in Ohio and the surrounding region, offering a combination of technical expertise, custom solutions and quality workmanship to every project.
To find out more about selecting a commercial or industrial roofing contractor in Cleveland, Ohio, simply fill out the form on this page and a member of our team will be in touch. Or, you may call us at 440.946.2233.