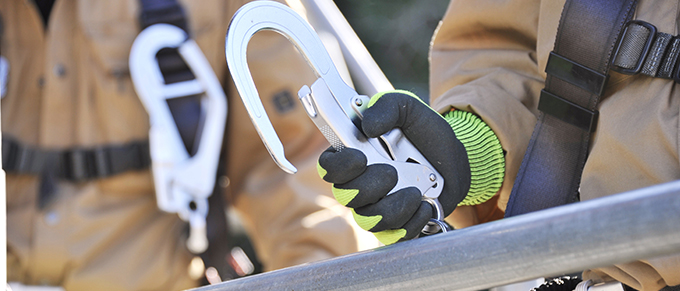 Just as swimmers should use the buddy system, the same holds true for roofing repair crews.
When our Roberts Roofing repair crews arrive at a job site for an assessment, they ask the client where the problem is. We then inspect the deck from the underside and look for bad decking. In conditions where there may be snow on the roof, we look for skylights and mark their location. It is important for the client to remain mindful when a roofing crew is working overhead because – even with safety precautions – there is always the possibility that screws, dust, paint chips or even pieces of the decking itself may come loose and tumble down.
Advance Planning
Before a roofing crew is scheduled to be overhead, high-traffic areas should be marked accordingly and sectioned off. We also ask the client if there are other hazards, such as gas or electric lines running across the roof. These lines may just need to be marked – or in some cases, disconnected – prior to any roof work.
Ladder Safety
The ladder is a two-man operation—the rungs must be three feet above the edge of the roof. A ladder should be tied off to prevent it from slipping or being blown over from the wind. Ladders should be set up away from vehicles or points of entry (e.g., doorways and windows). Ladders should always be tied to a gutter or some other anchor point of the roof edge.
Harnesses
Well-trained in fall protection, our roofers use a harness that is anchored into the roof field when working on roofing edges. Flags and stands that stretch the perimeter of the roof edge are commonly used for safety. They inform an unharnessed roofer working near the edge just how close the drop-off is.
Focus on Safety
Just as roofing quality is paramount to good roofing performance, it is critical that your roofing professionals maintain the highest degree of safety. With a focus on keeping building occupants and roofing crews safe, it is essential that safety precautions are well-planned for each job in preparation of performing the repairs.
To learn more about selecting a commercial roofer in Cleveland, Ohio, simply fill out the form on this page and a member of our team will be in touch. Or, you may call us at 440.946.2233.