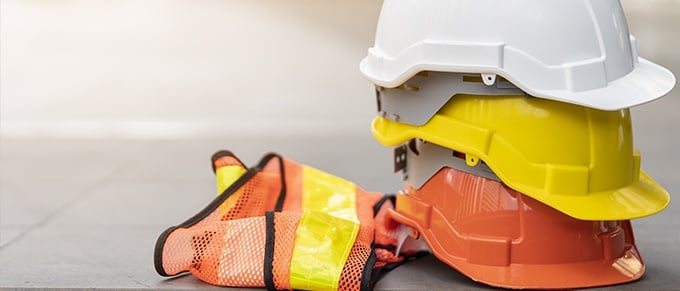 During a time of economic instability for many industries, Roberts Roofing Company is fortunate to be doing well. We have not had to shut down during the pandemic: commercial roofing is considered essential work. In fact, we have added to our team and continue to seek qualified applicants to join our great team. Whether you are looking for a position yourself, or want to refer someone to us by sharing this blog, we are interested in meeting qualified individuals. First you may be wondering, why Roberts Roofing?

Reasons to Consider a Career with Roberts Roofing
As a leading local Cleveland roofing contractor, Roberts Roofing offers a family-like atmosphere and long-term career options. We are a problem-solving, proactive group of professionals who make sure that new team members receive the training they need before going out on the job.
Safety
Safety is paramount at Roberts Roofing. Our training includes safety protocols – now with additional COVID-19 measures like social distance and personal protective equipment (PPE) – and we mentor new members to ensure they understand every nuance of our safety
procedures. Our continuous training emphasizes safety standards and precautions and
is the cornerstone of our onboarding practices. In fact, we invite our materials suppliers in-house so that new employees can learn firsthand how to properly apply the latest commercial roofing techniques and application processes.
Training
We're proud that all 35 of our roofing professionals hold virtually every certification that our projects require, from operating machinery to removing materials. Our customers depend on us to have fully trained employees, and we believe that our strong emphasis on roofing education and safety has been the key to our continued success. Every week, we hold on-site toolbox meetings, where we provide new and current staff with the most up-to-date information on roofing techniques, equipment and materials.
Work Outdoors
Let's face it, we're not all cut out to sit at a desk all day. A career in commercial roofing means you're always on the go. You get to enjoy being outside for a good part of the day and avoid a boring routine.
Variety
In commercial roofing, no two jobs are the same. Plus, you may come in as a laborer and shift into a role as an equipment operator or sheet metal fabricator. We'll never box you into one job—we want you to have flexibility and grow in your career with us. Our work requires ongoing problem-solving. You'll find that some jobs are straightforward but others require proactive approaches to unique customer challenges.
Benefits
Everyone is interested in benefits! At Roberts Roofing, we're proud to offer the following:
Long-term career opportunities
Competitive pay
Healthcare plan
Professional training
401(k) plans
Profit sharing
Quarterly bonuses based on attendance
Paid holidays, sick days and vacation days
Family Atmosphere
We have each other's backs at Roberts Roofing, and we'll include you in the fold from day one should you join our team. We'll offer you the opportunity to advance within the company as you accumulate experience.
Our Ideal Candidate
We'd love it if you have commercial roofing experience. However, we've had good experiences with those who come to us with other roofing experience and even other trades. We'll offer the training you need to get you up to speed and ongoing training throughout your career as you advance in your position.
No one wants to waste each other's time in the job interviewing process. You must be
able to pass a drug test—no exceptions, and that includes marijuana. Our large, high-profile clientele especially appreciate our enforcement of this policy.
We are interested in those with a strong work ethic, and those who treat our customers with courtesy and respect. Roberts Roofing is known for exceptional customer experience, and we hire those who can help us continue to earn that reputation.
It's really time to change the perception young people may have of working in the trades because competitive pay, full benefits, upward mobility and ongoing learning all add up to the potential for a long-term rewarding career.
Interested in a Career with Roberts Roofing?
To learn more about open positions, please visit the Careers page on our website.
Roberts Roofing Company has been a leading provider of innovative commercial and industrial roofing solutions in Cleveland, Ohio since 1981. We provide commercial repair, replacement and maintenance to serve companies of all sizes in Ohio and the surrounding region, offering a combination of technical expertise, custom solutions and quality workmanship to every project.
To find out more about selecting a commercial roofer in Cleveland, Ohio, simply fill out the form on this page and a member of our team will be in touch. Or, you may call us at 440.946.2233.