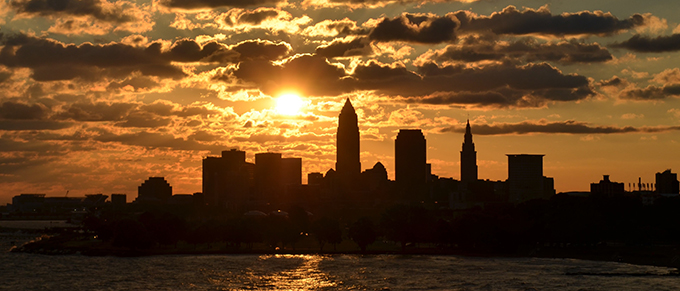 Commercial roofing in Cleveland, Ohio brings all sorts of interesting challenges. Wildly fluctuating temperatures – often within one season – and rain, sleet, ice, snow and high winds… well, you get the picture. The ensuing freeze/thaw cycle can wreak havoc on the sturdiest of commercial and industrial buildings.
Add to that the mix of tall buildings with tight working spaces, historical sites and environments calling for special equipment, and you'll understand why commercial and industrial building owners in Cleveland have the need for experienced commercial roofers.
Weather Conditions
Tall, commercial buildings are often pummeled by a combination of harsh weather conditions year-round. A roof blow-off is a disaster that no commercial building owner wants to experience. These incidents almost always occur during inclement weather situations: thunderstorms, blizzards or any time there are high winds. Buildings located on or near Lake Erie are particularly vulnerable.
Special Equipment for Tight Spaces
Commercial roofing jobs in Cleveland may require specialized equipment from highly trained roofing professionals. For example, when there is dangerous equipment near the job site, or the roof deck is inaccessible due to the surrounding environment, you will need a professional roofing company that has specialized equipment to work around any complex requirements.
The best commercial roofing companies are outfitted with an extensive array of special equipment and tools to properly install every roof specification available today. For example, we worked on a section of metal roofing at Mid-West Forge's facility that had been leaking for years. The section of roof in question was more than 40 feet in the air and dangerously narrow. The combination of location and width posed serious safety issues for any commercial roofer attempting to make the repair.
By using our articulated lift, an aerial work platform with multiple boom sections that hinge, we were able to safely work off the platform to make the repairs. This specialized equipment allowed us to gain access to the work area despite the obstacles in our way. Specifically, the articulated lift enabled our professionals to work on the complicated areas of the plant while booming up and around obstructions via telescoping capabilities.
Historical Sites…or Those Housing Historical Records
In the fall of 2014, the Western Reserve Historical Society in Cleveland, Ohio was experiencing leaking issues in the genealogical center of its Research Library. This building holds priceless records dating back more than 400 years. Some of the records are one of a kind, and many are kept in environmentally controlled rooms.
The project called for a roofing solution that would last for generations—one that could be done quickly and without any risk of damaging the priceless documents stored inside. Part of the roofers' scope of work was to keep the building watertight during this process.
Roberts Roofing started the project on October 15, 2014—not the best time of year in Northeast Ohio to begin such a sensitive project! But the library could not wait for spring as the leaking issues were becoming more critical. Roberts Roofing staffed the job with 10 of our best personnel, and we were able to successfully complete the project on November 17, 2014. Less than two weeks later, Northeast Ohio was under several inches of snow.
It's not uncommon for us to work on complicated, intricate or special roof projects like this. The most important thing we do is to provide our customers with the best possible roofing solution in the most efficient manner.
Spring Can Be Revealing
When the winter weather subsides and the warmer spring months arrive, the snow melts and the rain comes. This tends to shine a spotlight on Cleveland commercial roofing problems that may have cropped up over the winter.
When Roberts Roofing Company conducts a spring inspection, we look for signs of damage, including:
Loose seams, including edges and corners
Damaged fasteners
Bubbles in the membrane; punctured membranes; or those split from freeze/thaw cycles
Loose flashing or seals around vents or drains
Soft or spongy spots in the roof field
Clogged or damaged drains and gutters
Signs of mold or algae
Spring is the perfect time to repair vertical seams and repair or coat flashings. We often need to tighten or replace loose fasteners and replace wet insulation. These are minor repairs compared to major replacements that might result if problems go undetected.
Consult with a skilled commercial roofing professional to examine your entire roof system, including all roof components, such as any rooftop units, seams, skylights and gutters. Specifically, compromised seams, punctures and corroded flashing can keep water from draining properly.
Roberts Roofing Company has been a leading provider of innovative commercial and industrial roofing solutions in Cleveland, Ohio since 1981. We provide commercial repair, replacement and maintenance to serve companies of all sizes in Ohio and the surrounding region, offering a combination of technical expertise, custom solutions and quality workmanship for every project.
To find out more about selecting a commercial roofer in Cleveland, Ohio, simply fill out the form on this page and a member of our team will be in touch. Or, you may call us at (440) 946-2233.