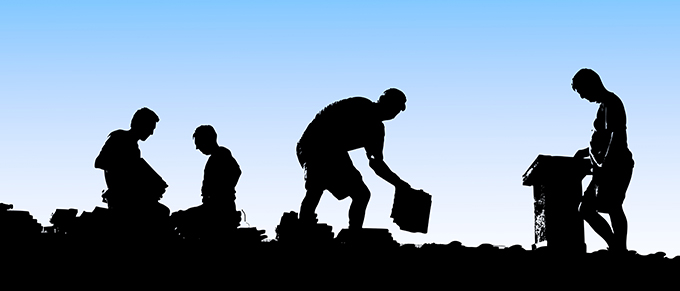 As we have addressed in previous blogs, there are many considerations when choosing a commercial roofing contractor. An often overlooked but extremely important factor is commercial liability insurance.
No one – neither the roofer nor the building owner – wants to think about the possibility of an accident happening on a work site. Yet accidents can happen, so the commercial roofing contractor should be transparent about the liability insurance it carries and communicate key information about that coverage to the building owner.
The Need for Liability Insurance
Commercial liability insurance is needed in the event an accident occurs on the building owner's property, or if there is an occurrence that causes damage or loss to the building owner's property or products. An accident could be as simple as the roofing contractor's truck backing into an employee's car, or as serious as a crane tipping over onto the owner's building. An occurrence that causes damage or loss could be a leak that damages ceiling tiles and carpet, or a fire that results in smoke and water damage that causes tens of thousands of dollars in repairs and lost production time.
Make Sure it is Commercial-Specific
Liability insurance is different for commercial roofers than for residential roofers. A residential roofer's policy generally does not cover commercial claims because the insurer recognizes that a residential loss is much lower than a commercial loss. The amount of coverage in the policy is also important. Most commercial contractors have a $1 million policy with a $2 million umbrella policy. This covers the building owner for up to $3 million of losses. The owners of larger buildings, whose projects have a larger potential liability for losses, may require a $5 million umbrella.
What Building Owners Should Expect from Their Commercial Roofer
It is important to have this coverage bound by a known reputable commercial insurance company that has the reserves to pay multiple claims. As the building owner, you should ask for a copy of the insurance policy and ask to be listed as an additional insured on the policy. This lets you know that the insurance is current and, if the policy is cancelled, you will be notified by the insurance company in writing that the contractor is no longer covered. This is important for roofing projects that take 30 days or longer.
It should be noted that in Ohio, commercial liability insurance covers loss to your property and business operations. Included in this policy will be the automobile portion of the policy that covers accidents involving the contractor's vehicles. Neither the broad commercial liability insurance policy nor the automobile portion of the policy covers injury to the roofing contractor's employees. Employee injuries are covered by Ohio Workers' Compensation—this is a separate policy with a certificate issued to the roofing contractor.
Again, a copy should be requested by the building owner along with the commercial liability insurance policy. Check that the coverage period listed is current for your project.
Most commercial roofing contractors take steps to avoid accidents and damage to the owner's property by following safe work practices and careful job planning, which should always include the building owner's representative. But accidents can happen, and having liability insurance coverage for those instances enables those events to be far less painful.
Do you have additional questions about your commercial or industrial roof? We welcome you to download our free e-book, The Commercial Building Owner's Guide to Roof Replacement, to learn more.
Roberts Roofing Company has been a leading provider of innovative commercial and industrial roofing solutions in Cleveland, Ohio since 1981. We provide commercial repair, replacement and maintenance to serve companies of all sizes in Ohio and the surrounding region, offering a combination of technical expertise, custom solutions and quality workmanship to every project.
To find out more about selecting a commercial roofer in Cleveland, Ohio, simply fill out the form on this page and a member of our team will be in touch. Or, you may call us at 440.946.2233.