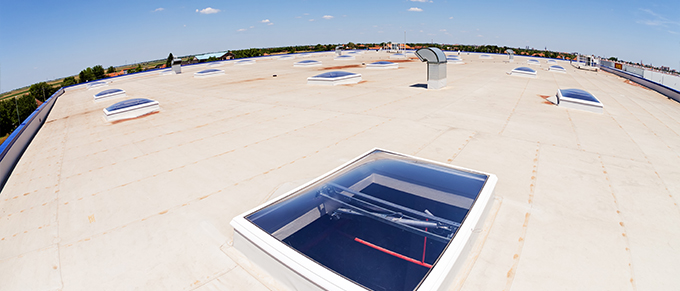 Once you make the decision to invest in a new roof for your commercial building, the next step is to understand the multiple options available to you. Think about it—you wouldn't set out to buy a new car before researching the options and prices. The same holds true for a new roofing system, a substantial capital investment. Your decision will likely be affected by five key factors: how long you intend to own the building; its location; the construction of the building and its roof, your budget; and how the property is being used.
There is an alphabet soup of choices available to commercial building owners. While your professional roofing contractor can help guide you toward the system that makes the most sense for your particular building, it helps to have an overall understanding of the types of systems available for flat roofs. So let's take a closer look at the most commonly used commercial roofing systems.
Single-Ply Membranes
Single-ply roofing, the most popular choice of commercial roofing systems, can be warranted in excess of 30 years. Single-ply roofing systems are clean to apply and perform well in deflecting sunlight. The following three products – TPO, PVC and EDPM – perform best where roof traffic is limited.
Thermoplastic Polyolefin (TPO)
TPO commercial roofing systems are durable and feature low temperature flexibility and strong UV resistance. They are able to withstand high winds, making them a good option for the weather fluctuations we experience in Northeast Ohio. Additionally, TPO systems are rated to hold ponding water without degrading the membrane or compromising the warranty. Highly resistant to chemical and ozone exposure, TPO roofing systems have a minimum lifespan of 20 years.
PolyVinyl Chloride (PVC)
PVC roofing membranes are made of highly flexible, thick UV-resistant thermoplastic material that can also contain polyester or fiberglass, resins, pigments, plasticizers and other chemicals. Similar to TPO for reflectivity, PVC membranes are durable and offer significant chemical resistance, though they may not resist weathering as well as TPO systems. The flexibility of PVC makes it an easy material for contractors to install. A properly installed PVC membrane can last in excess of 20 years.
Ethylene Propylene Diene Monomer (EDPM)
EDPM membranes are made of synthetic rubber derived from oil and natural gas. This flexible material is UV-stable, durable and versatile with properties that make it both long-lasting and easy to install and repair. EDPM membranes are designed to withstand inclement weather and resist tears and puncturing. These rubber roofs are economical—no special equipment is required for installation. EDPM roofs can last up to 30 years.
Any debate about which single-ply system to use typically leads to a debate about color. Black EPDM surfaces absorb heat while white TPO and PVC membranes can better reflect it. However, each has its advantages and works in a variety of situations. Color should certainly be weighed into the decision-making, but other variables need to be considered along with it.
Built-Up Roofing
Built-up roofing systems, known as BURs, date back more than 100 years. These asphalt-based roofs are composed of layers of modified or fiberglass rolls, which are set and covered in hot or cold asphalt and then capped with gravel or an additional asphalt-based granulated cap sheet.
This multi-ply, "tar and gravel" system delivers outstanding performance, strength, durability and leak control. Because the asphalt relies on petroleum, the use of BUR systems dipped during the energy crisis but have more recently made a comeback. BUR roofs often exceed their warranty and can last up to 50 years.
Asphalt-based roofs can be messy to apply, but the resulting thick layers form a resilient barrier against water penetration. They can be more expensive than single-ply systems but are often the roofing system of choice for owners of manufacturing facilities.
When you need a new roof, the professionals at Roberts Roofing Company can help you make the best decision for your particular needs. By understanding the different types of commercial roofing systems, you will be better prepared to understand the benefits of each system.
Do you have questions about your commercial or industrial roof? We welcome you to download our free e-book, The Commercial Building Owner's Guide to Roof Replacement, to learn more.
Roberts Roofing Company has been a leading provider of innovative commercial and industrial roofing solutions in Cleveland, Ohio since 1981. We provide commercial repair, replacement and maintenance to serve companies of all sizes in Ohio and the surrounding region, offering a combination of technical expertise, custom solutions and quality workmanship to every project.
To find out more about selecting a commercial roofer in Cleveland, Ohio, simply fill out the form on this page and a member of our team will be in touch. Or, you may call us at 440.946.2233.