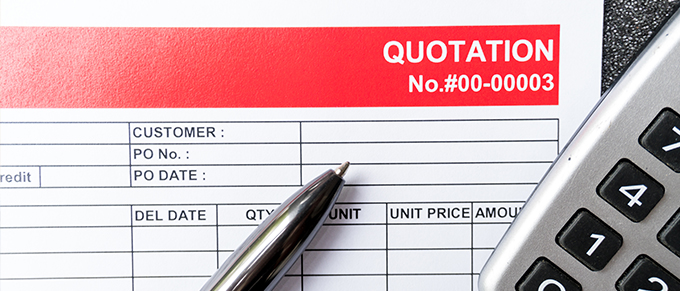 Let's face it, it is often challenging to compare quotes for any job you contract out. This is especially true when it comes to comparing quotes for commercial roofing repairs or replacement. Commercial and industrial roofing contractors in Cleveland, Ohio may provide quotes that vary widely—the reasons range from their understanding of the job to their work quality and credentials.
Speaking of credentials, be sure you are getting quotes from professional commercial roofing contractors and not residential roofers. Think of it this way—you wouldn't go see a dentist for a knee problem. The same holds true for commercial roofing repairs and replacement. You want a specialist who understands the intricacies of flat roof systems and has received the proper training. Companies like ours do commercial work every day, all day—we're not half in and half out.
With that in mind, it's important for you to be able to compare quotes to make the best choice for your company. Roberts Roofing recommends the following 8 tips to help you evaluate and compare quotes.
1.) Ask for Multiple Quotes
Before embarking on commercial or industrial roof repairs or roof replacement, it is critical to get at least three quotes. It is valuable to have different commercial roofing contractors analyze the condition of your roof and present their recommendations. Once you receive their quotes, it's time to ask probing questions about what each item in the quote covers. If the quote or the reasons for the costs don't make sense, there could be a problem.
2.) Repair or Replace
Let's say one contractor thinks you can get by with repairs. That quote will be much less than the one you received from a contractor for a full replacement. Speaking of replacement, do you need a complete tear-off or just a partial replacement? You need to look long-term—which approach will serve you best for the time you plan on owning the building?
3.) Materials Matter
You've heard the saying: You get what you pay for. Don't let your roofer cut corners just to get the job. When it comes to materials, make sure you are comparing similar roofing systems. If not, ask why the commercial roofing contractor is specifying a TPO membrane versus a built-up asphalt roof, for example. Costs will vary widely depending on roofing systems, so ask the contractor why they are specifying certain materials. Finally, make sure the quote includes all the materials that will be used so you can avoid surprises down the road. Can we get more specific here with an example?
4.) Cost: Look Beyond the Numbers
Let's say you get two quotes for a commercial roof replacement cost that are not even close. Why is that gap so large? What is one contractor going to do that the other isn't? In many cases, a quote that is far less than others could be an indicator that the company has less experience. On the other hand, if the quotes you are receiving seem to be in the same league and you would like to work with the contactor with the higher quote, ask whether they would be willing to meet the other price. Additionally, be sure the quote includes extras like cleanup and debris removal. Bear in mind that there might be additional problems discovered during the reroofing process. Ask the contactor how they will keep you informed along the way.
5.) Labor: What Level of Experience Will You Get?
When it comes to labor costs, you also need to look beyond the numbers. Ask the contractor to itemize all labor costs. An experienced crew might cost a bit more, but if they are certified to do the work and have more experience, your repairs will likely last longer because they are being performed by a highly trained commercial roofing contractor. So ask questions about years of experience, specific training and certifications. Check that licenses are current, and that insurance is up-to-date.
6.) Warranties Are Not Created Equal
Warranties are the backbone of any roofing job. All quotes should include specifics about the warranty that will be provided. Why is one system covered for 15 years when another is covered for 30 years? You must understand if the warranty is coming from the manufacturer or the contractor. Remember, a low-cost quote means nothing if there is no warranty to back up the work. To learn more, read How Do Commercial Roofing Warranties Work?
7.) Record of Success: Ask for References
You have every right to ask potential contractors to share their approach to similar commercial or industrial roofing jobs. Ask to see photos and other examples that prove the quality of their work. Back that up by checking references.
8.) Customer Service Is a Tie-Breaker
While customer service is not reflected in the hard numbers in the quotes you are comparing, it's well worth your consideration. How accessible will the company be? Will they show up on time? What are the weather conditions that would cause cancellations? You can acquire a good sense of their approach to customer service during the quoting process. This is also where references come in handy. Call two to three of the company's past or current customers. Ask what it was like to work with that particular company.
Roberts Roofing Company has been a leading provider of innovative commercial and industrial roofing solutions in Cleveland, Ohio since 1981. We provide commercial and industrial roof repair, replacement and maintenance to serve companies of all sizes in Ohio and the surrounding region, offering a combination of technical expertise, custom solutions and quality workmanship to every project.
To find out more about selecting a commercial and industrial roofing contractor in Cleveland, Ohio, simply fill out the form on this page and a member of our team will be in touch. Or, you may call us at 440.745.8578.