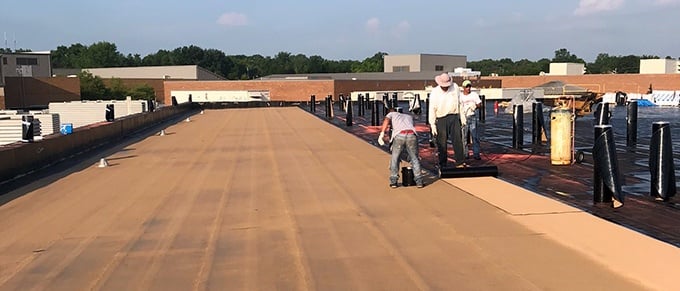 The Medina Community Recreation Center boasts four swimming pools, including a competition pool and a leisure pool. The city, located 30 miles south of Cleveland, put out for public bid a new premium roof system, with detailed specifications and project inspections performed by Greg Taylor of Taylor Consulting, to cover its recreation center, which consists of a gymnasium and an aquatics center. Roberts Roofing won the bid to replace the roof of the 50,000-square-foot center with a premium system.
Because the recreation center hosts scheduled classes, programs and events year-round, our crew had to work within a tight timeframe. We first built a temporary access road because the recreation center is set far back from the main road. Our crew then completed the tear-off quickly because the pools could only be shut for a short time.
The city closed the recreation center for two weeks and drained the pools for two weeks to conduct repairs inside the pools' walls and to add new coating. The challenge of this job was that we had to complete one month's worth of work in that two-week period. When several bad weather days prohibited work, our crew worked weekends and were able to get the job done a few days early.
Working within that sensitive timeframe is a challenge for any roofer. However, Roberts Roofing foreman Jeff Graff is a talented roofing professional who understands how to lay out a roof in that timeframe. Jeff was able to achieve maximum performance from his crew, which was evident when there was no punch list once the job was completed.
The beautiful, new Soprema high-performance, two-ply modified roofing system has a 30-year warranty.
Roberts Roofing Company has been a leading provider of innovative commercial and industrial roofing solutions in Cleveland, Ohio since 1981. We provide commercial roof repair,
replacement and maintenance services to serve companies of all sizes in Ohio and the surrounding region, offering a combination of technical expertise, custom solutions and quality workmanship for every project.
To find out more about selecting a commercial and industrial roofing contractor in Cleveland, Ohio, simply fill out the form on this page and a member of our team will be in
touch. Or, you may call us at (440) 946-2233.