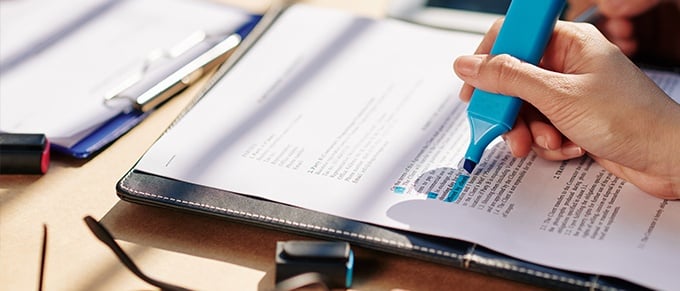 As a commercial building owner, you want to protect the capital investments you make in keeping your building and its assets in good working order. Whether you need commercial roofing repairs or a complete roof replacement, it can be helpful to understand various terms used by commercial roofing contractors.
Ballast
It is not unusual to find a gravel top coat that serves as a ballast on commercial roofing systems. Though primarily confined to built-up asphalt roofing systems, it can be applied to single-ply EPDM, rubber-based membranes as well. The weight of the gravel anchors roofing materials and serves to protect the roofing system from the sun's harmful rays. Learn more.
BUR
Built-up roofing systems, known as BURs, date back more than 100 years. These asphalt-based roofs are composed of layers of modified or fiberglass rolls, which are set and covered in hot or cold asphalt and then capped with gravel or an additional asphalt-based granulated cap sheet. This multi-ply, "tar and gravel" system delivers outstanding performance, strength, durability and leak control. BUR roofs often exceed their warranty and can last up to 50 years. Learn more.
Commercial Roofing Inspections
Roof inspections are critical acts of maintenance that are absolutely necessary to prolonging the life of your commercial roof system. Roberts Roofing recommends two inspections per year, with any necessary repairs made during those times. These inspections are best performed in the spring and early fall. Regular maintenance and inspections will reveal and allow for the repair of any damage or potential issues that could compromise your roof system. Learn more.
Commercial Roofing Maintenance Agreements
Your roof's lifespan depends on having professional maintenance performed at regular intervals to ensure it will function the way it is intended. Every roof system should be protected by a maintenance contract because manufacturers' warranties do not always cover every roof issue that may arise. Your agreement should clearly define the frequency and the degree to which your roof will be inspected, and the timeline for getting any needed repairs done. Learn more.
Commercial Roof Replacement
Commercial roofs are made to withstand varying weather elements. Depending on the roofing materials used, a well-maintained commercial roof should last anywhere from 20 to 30 years. However, certain external factors can affect the wear and tear on the roof, leading to leaks and damage from materials coming loose. While simple repairs can solve some problems, it sometimes makes more sense to replace the roof. Learn more.
Commercial Roof Warranty
It is essential for commercial building owners to have a copy of their manufacturer warranty to understand what it covers and keep track of your inspections and any repairs that are made. At Roberts Roofing, we keep our customers' maintenance records on file at all times. We keep track of any repairs that need to be made over the course of your warranty. Learn more.
EPDM Commercial Roofing System
Ethylene Propylene Diene Monomer (EPDM) single-ply membranes are made of synthetic rubber derived from oil and natural gas. This flexible material is UV-stable, durable and versatile with properties that make it both long-lasting and easy to install and repair. EPDM membranes are designed to withstand inclement weather and resist tears and puncturing. These rubber roofs are economical—no special equipment is required for installation. EPDM roofs can last up to 30 years. Learn more.
Fleece-Back TPO
Fleece-back membranes have been used in the commercial roofing industry for adhered and mechanically fastened applications over a wide variety of surfaces, and they are gaining traction as an efficient, durable alternative to other membranes. Learn more.
Freeze/Thaw Cycle
When snow melts on a flat roof it can pond. While some of that water will drain as intended and naturally evaporate, the rest can refreeze. Freeze/thaw cycles can cause damage
to roofing materials when the water seeps into cracks and crevices. You also need to consider damage to HVAC units and other electrical systems—the costs to repair them can be considerable. Learn more.
GAF-Certified Commercial Roofing
Many contractors can install a new commercial roof system, but only trained, certified professionals can do it correctly and secure the coveted manufacturers' warranties, which range from 15 to 35 years of complete coverage. Roberts Roofing has been certified as MasterSelect by GAF. Less than one percent of all the commercial roofing companies in the
nation that apply GAF product achieve this certification. Learn more.
Metal Roofing
Metal roofing is a fairly common specification in commercial building plans. The metal roof panels are generally laid out in a standing seam pattern with nothing but rivets and screws on the surface. Insulation, if included at all, is generally applied to the underside of the roof deck from within the facility. Metal roof systems are functional and efficient, but they aren't exempt from issues. Learn more.
PVC Commercial Roofing System
PolyVinyl Chloride (PVC) single-ply roofingmembranes are made of highly flexible, thick UV-resistant thermoplastic material that can also contain polyester or fiberglass, resins, pigments, plasticizers and other chemicals. Similar to TPO for reflectivity, PVC membranes are durable and offer significant chemical resistance, though they may not resist weathering as well as TPO systems. A properly installed PVC membrane can last in excess of 20 years. Learn more.
R-Value
R-value is a measure of how well an exposed area of your building resists the conductive flow of heat. For materials, it is often expressed in terms of R-value per unit length. The higher the R-value, the greater the insulating power and the more energy costs are reduced. Learn more.
Section 179 Tax Deduction
Named for a section of the tax code, Section 179 enables commercial building owners to take a tax break for investments they make in their property through the purchase of new equipment or improvements to their business. Effective 2018, the tax laws changed so that commercial property owners may potentially expense up to $1 million of a replacement roof
under Section 179, rather than having to write off the new roof under the traditional depreciation rules. Learn more.
Single-Ply Membrane
Single-ply roofing is the most popular choice of commercial roofing systems, and can be warranted in excess of 30 years. Single-ply roofing systems are clean to apply and perform well in deflecting sunlight. TPO, PVC and EPDM are examples of single-ply membrane choices. Learn more.
TPO Commercial Roofing Systems
Thermoplastic polyolefin (TPO) has been a popular and affordable roofing system choice for commercial building owners for more than three decades. TPO commercial roofing systems are durable and feature low temperature flexibility and strong UV resistance. They are able to withstand high winds, making them a good option for the weather fluctuations we experience in Northeast Ohio. TPO roofing systems have a minimum life span of 20 years. Learn more.
Your flat roof serves a vital role in protecting your property. By understanding these terms, you will be in a better position to discuss alternatives with your professional roofing contractor and ensure your investment will be protected for years to come.
Roberts Roofing Company has been a leading provider of innovative commercial and industrial roofing solutions in Cleveland, Ohio since 1981. We provide commercial roof repair,
replacement and maintenance services to serve companies of all sizes in Ohio and the surrounding region, offering a combination of technical expertise, custom solutions and quality workmanship for every project.
To find out more about selecting a commercial and industrial roofing contractor in Cleveland, Ohio, simply fill out the form on this page and a member of our team will be in
touch. Or, you may call us at (440) 946-2233.