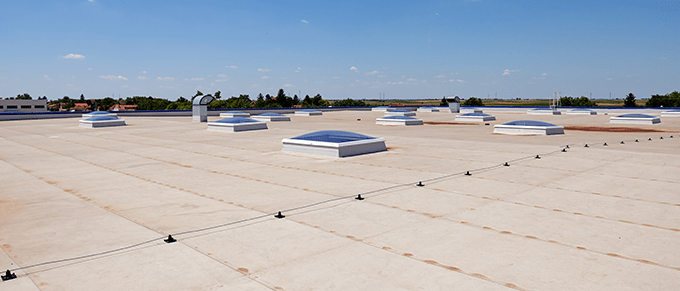 Whether you recently had a new roof system installed on your commercial building or plan to do so in the near future, there are a few things you should understand about protecting this significant investment. First, you should understand the different types of roof warranties. Next, you need to be aware of the actions that you, the building owner, are responsible to take to ensure the warranty is 100% effective.
Types of Warranties
Manufacturer's Material Warranty
If a defect in the manufacturing process causes damage to your roofing system, the manufacturer's warranty would likely protect you. However, keep in mind that this warranty only covers the repair or replacement of the roofing materials. For example, this warranty wouldn't cover incorrect installation. Be sure to select a roofing contractor that is certified to install the manufacturer's systems. Typically this means the contractor has a relationship with the manufacturer and a good amount of experience installing its systems. You should expect a manufacturer's representative to inspect the installation before issuing the warranty certificate
Manufacturer's System Warranty
Unlike the manufacturer's material warranty, the system warranty is broader in coverage because it covers materials and labor. As the building owner, you can rest assured that if anything were to happen during the warranty period, the manufacturer will be responsible to make repairs at no cost. The commercial and industrial roofing experts at Roberts Roofing Company work with a variety of roofing material manufacturers who promote different roofing specifications. These roof "specs" require us to apply the materials in precise methods using specific materials. Following the manufacturer's specifications always grants
our customers a complete "No-Dollar-Limit" (NDL) warranty along with your new roof system. For example, a single-ply roofing system, mechanically attached to a steel or wood deck roof surface, with materials purchased from the GAF Corporation, and applied by Roberts Roofing professionals, can automatically secure a minimum guarantee of 20 years of labor and material NDL-warranted coverage through your provided warranty.
Contractor's Workmanship Warranties
More comprehensive warranties cover any errors of installation. These would be provided by a professional, trustworthy roofing contractor that is licensed by the manufacturer and can provide warranties that cover any installation errors. For example, at Roberts Roofing we stand behind the work we do in installing your roofing system.
Contractor's workmanship warranties ensure timely completion of any services needed to cover material and labor.
Roberts Roofing is one of a few select contractors that have earned the GAF Masters Select™ Certification, which allows us to offer these warranties. It is important to know that any roofing manufacturer offering extended NDL warranties requires documented yearly inspections with maintenance by the certified roofing contractor at the owner's expense.
Roberts Roofing goes the extra mile when performing a maintenance contract inspection for your facility. If a problem is due to a related trade, such as masonry, windows or HVAC, we explain the problem to you and recommend a qualified contractor if you do not have one.
Commercial Building Owner's Responsibility
Let's say you purchase a beautiful new car. You receive a generous warranty that will protect you if anything goes wrong within the first five years. However, you run the risk of rendering that warranty useless if you don't keep up with specified maintenance on your vehicle. The same holds true with your commercial or industrial roofing system. You are responsible for the proper maintenance of your system, which includes regularly scheduled roof inspections. You are also expected to keep your roof clear of debris and to ensure your drains are working.
Does your manufacturer require annual or biannual maintenance? Make sure you are very familiar with your commercial roof warranty. Then make a plan to schedule regular maintenance throughout the duration of the system's warranty. After making a large investment that should last you a long time, the last thing you want is to cause the warranty to become void.
Roof inspections are critical acts of maintenance that are necessary to prolong the life of your commercial roof system. Roberts Roofing recommends two inspections per year, with any necessary repairs made during those times. These inspections are best performed in the spring and early fall. Regular maintenance and inspections will reveal and allow for the
repair of any damage or potential issues that could compromise your roof system.
Your flat roof serves a vital role in protecting your property. By understanding warranty terms, coverages and your own responsibility in scheduling maintenance inspections through your professional roofing contractor, you can be assured that your investment will be protected for years to come.
Roberts Roofing Company has been a leading provider of innovative commercial and industrial roofing solutions in Cleveland, Ohio since 1981. We provide commercial roof repair, replacement and maintenance services to serve companies of all sizes in Ohio and the
surrounding region, offering a combination of technical expertise, custom solutions and quality workmanship for every project.
To find out more about selecting a commercial and industrial roofing contractor in Cleveland, Ohio, simply fill out the form on this page and a member of our team will be in
touch. Or, you may call us at (440) 946-2233.