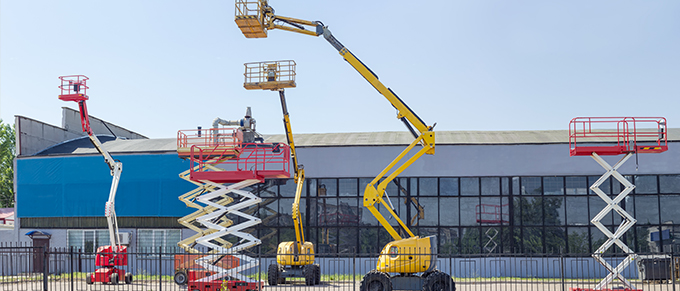 In a recent blog, we explained why not all commercial roof replacement jobs are straightforward. When there is dangerous equipment near the job site, or the roof deck is inaccessible due to the surrounding environment, you will need a professional roofing company that has specialized equipment to work around any complex requirements. At Roberts Roofing, we are prepared to meet these challenges with specialized – even unusual – equipment to get the job done.
Sometimes the design of the roof itself, such as a steep pitch or complexities from new additions being added to the facility over the years, results in making some sections of the roof simply out of reach or completely inaccessible. Such was the case at Cleveland-based Mid-West Forge Corporation, a forging and machining company for axle shafts.
Challenge
A section of metal roofing at Mid-West Forge's facility had been leaking for years. Because of the design of the roof section, the problem had been improperly repaired over the years. The section of roof in question was more than 40 feet in the air and dangerously narrow. The combination of location and width posed serious safety issues for any commercial roofer attempting to make the repair.
Solution
By using our articulated lift, an aerial work platform with multiple boom sections that hinge, we were able to safely work off the platform to make the repairs. This specialized equipment allowed us to gain access to the work area despite the obstacles in our way. Specifically, the articulated lift enabled our professionals to work on the complicated areas of the plant while booming up and around obstructions via telescoping capabilities.
The two-man repair team was able to properly finish the job that had been pestering the steel plant for quite some time, and was even considered unfixable by several other local roofing companies due to the location of the problem areas.
For some roof replacement and repair jobs, it may be critical that you work with a commercial roofing company with specialized equipment. The articulated lift allowed the professionals at Roberts Roofing to complete the job in a safe and timely fashion.
Do you have questions regarding challenging commercial roofing jobs, or any other roofing matter? We would be happy to speak with you.
Roberts Roofing Company has been a leading provider of innovative commercial and industrial roofing solutions in Cleveland, Ohio since 1981. We provide commercial repair, replacement and maintenance to serve companies of all sizes in Ohio and the surrounding region, offering a combination of technical expertise, custom solutions and quality workmanship to every project.
To find out more about selecting a commercial roofer in Cleveland, Ohio, simply fill out the form on this page and a member of our team will be in touch. Or, you may call us at 440.745.8578.