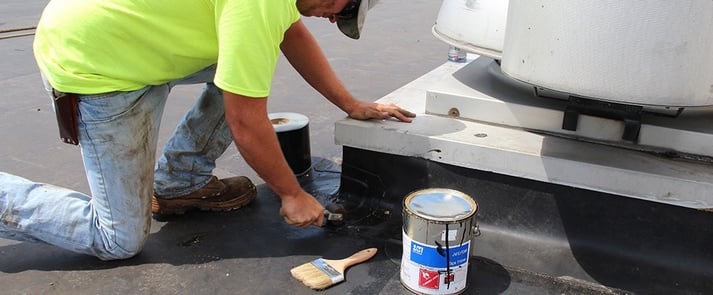 When a commercial building owner finds water where it's not supposed to be, the first inclination is to suspect that the roof is leaking. Yet even when the water is coming from the top of the building, it is not always caused by the roof system itself. Let's take a look at some of the likely suspects and the ways in which your commercial and industrial roofing contractor can help to identify problem areas before it is too late.
HVAC Units
The chiller unit that is part of a commercial building's heating, venting and air conditioning (HVAC) system is a metal box that is completely exposed to weather elements. A void in the metal, the seam or its door can cause leaking through the duct work that eventually damages the building.
Since the chiller unit is attached to the roof curb, it is best to have your commercial roofer do the attachment to make sure this "man-made" roof penetration is attached correctly. It's important that both your commercial roofer and the HVAC company perform due diligence to ensure the unit has been installed correctly. The last thing you need is for the door to the unit to cartwheel across your roof and cause damage.
During a commercial roof maintenance inspection, the professionals at Roberts Roofing can easily spot and address problem areas around an HVAC unit that need extra caulking. When a building owner says the leaking is near the unit or in the duct work, the first thing we do is inspect the flashing around the unit to see if it is damaged. If there is no evidence of flashing around the curb, we'll take a closer look at the unit itself.
Keep in mind that your roof warranty does not cover any damage caused by the HVAC unit. It is important to work with a reputable HVAC company. Roberts Roofing is pleased to make recommendations or work with the company you used to install the unit to help prevent future problems.
Skylights
Similar to HVAC units, skylights sit on a curb. While the curb is much smaller, the same potential for leaking still exists. During regular inspections, Roberts Roofing will inspect the flashing around the skylight, including the glass dome. We'll look for cracks in the dome and pinholes in the glass. We can patch the roof curb and add caulking where it is needed. The company that installed the skylight would need to replace the glass itself.
Masonry
It is common to misidentify leaking brickwork as a roofing leak. After all, when you see water stains on your interior walls, your first thought is that the roof is causing the problem. Over time, bricks become more porous. In older buildings, tuck pointing is often needed to address problem areas. In some instances, you may need to make more extensive repairs to the masonry.
As mentioned above, your commercial roofer can identify and address many of these problems during a routine inspection. As part of our regular annual inspections, the professionals at Roberts Roofing will look for any problem areas with HVAC units, skylights and masonry. Sometimes it's just a matter of replacing a screw or adding some caulking around a seam.
When a problem falls outside our area of expertise, we will bring it to your attention and make referrals if you request them. We have many longstanding relationships with other trades, especially HVAC and masonry professionals.
The important thing to remember is a roof is much more than asphalt and membranes. Any system that is attached to the roof – or penetrates it – should be inspected by a professional commercial or industrial roofer. By having annual roof inspections, a building owner can prevent a lot of headaches down the road.
Roberts Roofing Company has been a leading provider of innovative commercial and industrial roofing solutions in Cleveland, Ohio since 1981. We provide commercial and industrial roof repair, replacement and maintenance to serve companies of all sizes in Ohio and the surrounding region, offering a combination of technical expertise, custom solutions and quality workmanship to every project.
To find out more about selecting a commercial or industrial roofing contractor in Cleveland, Ohio, simply fill out the form on this page and a member of our team will be in touch. Or, you may call us at 440.946.2233.