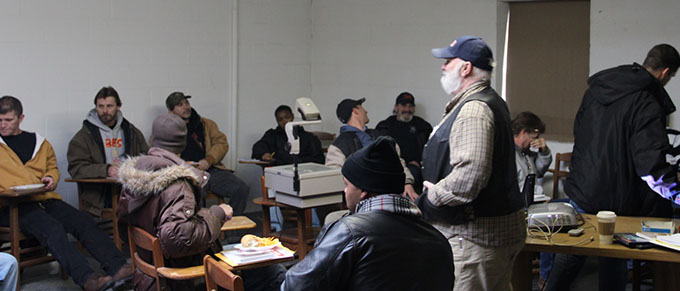 Whenever I introduce myself at a safety class, I tell people my name and my position at Roberts Roofing Company, and that I started my commercial roofing career before safety was invented.
Fast forward a few years and safety is as much a part of our business as roofing itself. You can see safe practices in most business sites you visit. For example, your particular business may require machine guards or latex gloves, or it may require respiratory protection.
Due to the nature of the commercial and industrial roofing work we do and the heights at which we work, our first responsibility is fall protection. As simple as it sounds, ladder safety needs to be addressed frequently. Because we use a crane, our employees need to be trained in rigging and signaling. During the course of our off-season, we will send our crane operators out of state for updated crane certification and licensing.
Our supervisors are trained to be trainers in power lift trucks and aerial work platforms, torch application and fire safety. Your training may be similar to ours, where most of this training takes place in the winter or slower season.
Every two weeks we bring in all of our employees to cover different topics. We usually give them a quiz, and to keep it interesting and competitive, we award a nice prize to the winner. During our busy season we have on-site, toolbox talks which are site-specific for the duration of your project and address the dangers and hazards of each particular job. These meetings also serve to continue our staff's education on the latest roofing techniques, materials, equipment and safety measures.
At Roberts Roofing, we believe this strong emphasis on roofing education and safety has been one of the keys to our continued success.
Keeping your employees in the safety loop will keep them interested and they will more likely become active participants in your safety program. Watch for future blogs on safety-related topics from Roberts Roofing.
To find out more about selecting a commercial roofer in Cleveland, Ohio, simply fill out the form on this page and a member of our team will be in touch. Or, you may call us at 440.946.2233