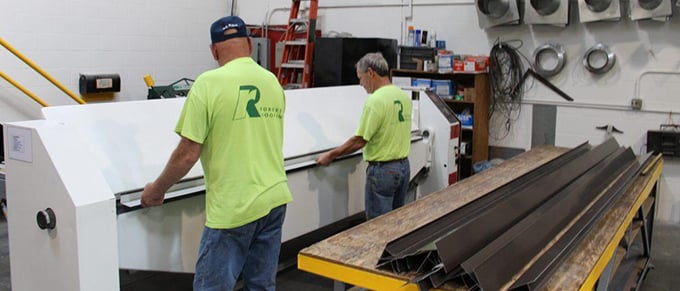 Across Ohio, businesses in nearly every industry are putting out their "help wanted" signs. In fact, the country as a whole is experiencing a record high number of job openings – 10.9 million as of July 2021 – according to the U.S. Bureau of Labor Statistics.
Whether you are losing pandemic unemployment benefits, considering a job change or embarking on your first career, you are in a good position to take charge of your future. There are enticing job opportunities available from employers in nearly every industry, but we can give you a few compelling reasons why you would want to work in commercial roofing.
Why Commercial Roofing?
The market size of the roofing contractors industry is $51.9 billion and is expected to increase 3.8% in 2021, according to IBISWorld. The industry continues to grow year after year largely because, well, we all need a roof over our heads. Furthermore, the pandemic highlighted the fact that commercial roofing is considered essential. And as far as training goes, you are generally trained on the job, allowing you to begin earning a competitive wage immediately rather than incurring additional student loan debt, if applicable.
Commercial roofing offers stability, growth and an upward career path with competitive earnings potential. It also offers a number of interesting jobs that require skills ranging from mechanical abilities to physical strength to creativity.
Roberts Roofing is currently looking for potential employees to join our teams of installers, foremen, repair technicians and architectural sheet metal professionals.
Why Join Our Team of Architectural Sheet Metal Professionals?
Even if you have never worked for a commercial roofing company, you may be familiar with the work performed by installers and repair technicians. Less well-known, however, is the function of architectural sheet metal fabrication.
Architectural sheet metal fabrication incorporates design into the sheet metal process. Architectural sheet metal provides durability, energy efficiency and versatility. Because it is malleable, it can be molded and shaped to fit any project and therefore used to transform the look and feel of a commercial building and add to its aesthetics.
Our team of architectural sheet metal professionals make, install and repair sheet metal products used in roofing and drainage systems. Our professionals study blueprints and use specialized operating tools and machines to replace or repair a standing-seam roof, clad or retrofit building walls or install gutters, scuppers and down-spouting. Additionally, we fabricate all of the specialty metals we install in our in-house sheet metal shop.
The architectural sheet metal process allows you to apply a number of skills to the job, including technical, mathematical and design, while giving you the chance to be creative.
We are looking for employees who possess these skills as well as a good work ethic to join this specialized team of professionals. We would welcome candidates who have practical experience working with architectural sheet metal, but we also provide extensive training to qualified individuals.
What Can Roberts Roofing Offer?
A career with us provides a number of additional advantages, including:
Benefits such as healthcare, 401(k) with 10% company match, profit sharing, quarterly bonuses, vacations and more
Security with a company that has been in business for over 40 years and is a proven leader among commercial roofing contractors in Cleveland
Comprehensive safety measures in place including certified training and licensure in the areas of fall protection, fire safety and the use of power equipment
Use of state-of-the-art equipment and the latest roofing techniques and materials that result in a variety of work challenges that change every day
A family atmosphere in which your voice is heard and your contributions are valued and acknowledged
An employer that is both environmentally and socially conscious and implements energy-efficient roof technologies, zero-waste jobsite policies and diversity throughout our job locations
Roberts Roofing has been a leader in providing commercial and industrial roofing solutions, including architectural sheet metal work, to northeast Ohio for decades. We have considerable experience and expertise in performing the roofing required by buildings with any number of vents, stacks, curbing or other complexities. In doing so, we have gained the trust and loyalty of our customers.
Interested in a Career with Roberts Roofing?
To see our open positions, including our architectural sheet metal jobs, please visit the Careers page on our website. You may also fill out the form on this page and a member of our team will be in touch, or call us at 440.946.2233 to learn more about a roofing career with a premier commercial roofing contractor.
Roberts Roofing has been a leading provider of innovative commercial and industrial roofing solutions in Cleveland, Ohio since 1981. We provide commercial roof repair, replacement and maintenance to serve companies of all sizes in Ohio and the surrounding region. We offer a combination of technical expertise, custom solutions and quality workmanship in every project.