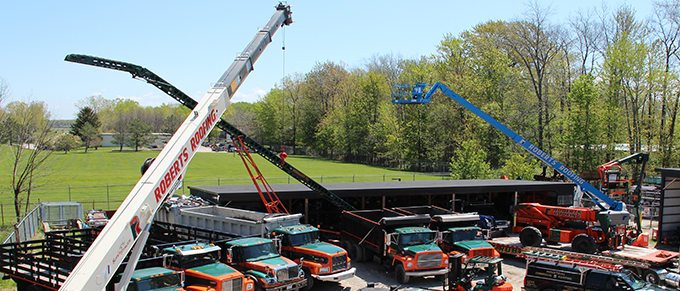 Commercial roofing is an intricate and technical job. Specialized equipment and a highly trained labor force are essential for applying the best possible product to your roof surface. The best commercial and industrial roofing contractors are always outfitted with an extensive array of special equipment and tools to properly install every roof specification available today.
One major piece of equipment necessary for almost every roof application job is an overhead crane called a boom truck. These trucks are mounted with an adjustable crane employing a wire line and hook used to lift large pieces of equipment, materials and scrap from a roof surface. Boom trucks are also vital for moving or relocating equipment already installed upon a roof surface or accessing tricky areas on a roof surface from the air.
The boom truck is able to extend its arm or "boom" to varying heights depending on the make and model of the truck used. Our truck here at Roberts Roofing Company is a Terex Stinger capable of extending 116 feet; it can lift materials and equipment up to 10,000 pounds, making it capable of performing practically any roof-related task.
Operation of a boom truck requires hours of specialized training and various certifications. The men working alongside a boom operator must also train in proper safety and hand signaling. A company with its own boom truck has likely undergone rigorous classes and training just to be able to legally operate and deploy it.
The boom truck is a cornerstone of any commercial roofing company, and the lack of one will likely cost you, the customer, in the long run. Companies without a crane or boom truck will be forced to rent one along with a certified operator at premium pricing, or be forced to lift materials and equipment by hand, which can be time-consuming and dangerous.
When deciding on a commercial or industrial roofing contractor for your building or project, ask about important equipment, like the boom truck. A company that owns one is likely to be better prepared for intricate projects and has the resources needed to do a quality job in a timely fashion.
Do you have questions about your commercial or industrial roof? We welcome you to download our free e-book, The Commercial Building Owner's Guide to Roof Replacement, to learn more.
Roberts Roofing Company has been a leading provider of innovative commercial and industrial roofing solutions in Cleveland, Ohio since 1981. We provide commercial and industrial roof repair, replacement and maintenance to serve companies of all sizes in Ohio and the surrounding region, offering a combination of technical expertise, custom solutions and quality workmanship to every project.
To find out more about selecting a commercial and industrial roofing contractors in Cleveland, Ohio, simply fill out the form on this page and a member of our team will be in touch. Or, you may call us at 440.508.4068.