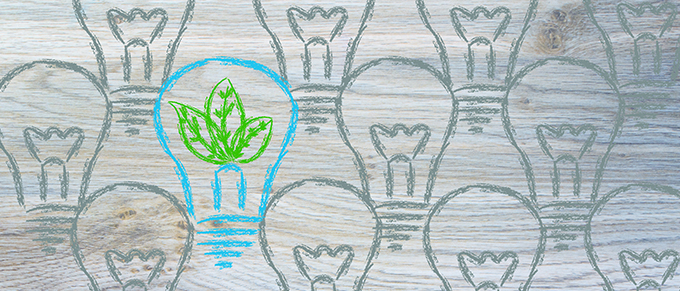 In recent years, the number of green building certifications has gone through the roof. While most people are familiar with LEED® certification, a building's energy consumption is most often rated by ENERGY Star®, and healthy indoor space is certified by the WELL Building Institute™. Why is this important when it comes to commercial roofing?
Commercial building owners count on the most energy-efficient products and processes throughout their structures, and the roof is no exception. With an increased focus on sustainability, commercial roofers like Roberts Roofing Company strive to utilize sustainable roofing systems and practices through the roofing materials manufacturers we work with and the procedures we follow.
To help achieve the greatest operating efficiency in Northeast Ohio, you'll want to choose materials that will work well with both the intense UV rays we experience in the summer, as well as with our harsh winter weather conditions. For example, we offer "cool roof" solutions that can lower the temperature of your existing roof. Since some coatings are highly reflective, they can greatly increase solar reflectivity, which can significantly reduce interior coating costs.
Programs like GAF's Zero Waste Jobsite roof recycling program, as well as energy-efficiency improvements possible with added insulation and cool roofing, help us bring green solutions to our commercial and industrial roofing customers.
Sustainability Through Roof Restoration
Roof restoration offers many attractive advantages when it comes to thinking and acting green. For starters, there will be far fewer materials to dispose of. You'll improve the sustainability of your building since you'll be reusing your existing roof. In addition, there are tax advantages to the green quality of roof restoration. Depending on where you live, there may be tax advantages in the form of tax credits and rebates available for energy-efficient improvements, such as ENERGY STAR® qualification and LEED® point contribution.
If your company has a sustainability mission statement, it's important to share that commitment with your commercial roofer so they can help you support new technologies in energy efficiency and material optimization. When looking at the life cycle of your commercial roof, consider whether federal, state and/or local governments provide tax incentives for alternative roof designs that utilize specified energy-efficient, or green, products.
Roberts Roofing is committed to helping our commercial building owners' sustainability goals by finding ways to save energy and reduce your long-term energy costs. Our team follows all federal and state roofing guidelines and holds virtually every certification that a project may require.
Do you have additional questions about your commercial or industrial roof? We welcome you to download our free e-book, The Commercial Building Owner's Guide to Roof Replacement, to learn more.
Roberts Roofing Company has been a leading provider of innovative commercial and industrial roofing solutions in Cleveland, Ohio since 1981. We provide commercial repair, replacement and maintenance to serve companies of all sizes in Ohio and the surrounding region, offering a combination of technical expertise, custom solutions and quality workmanship to every project.
To find out more about selecting a commercial roofer in Cleveland, Ohio, simply fill out the form on this page and a member of our team will be in touch. Or, you may call us at 440.946.2233.