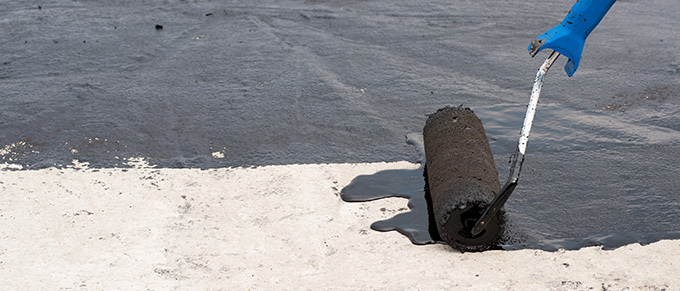 Coating your commercial roof system can be a less expensive and logical alternative to roof replacement assuming the proper criteria is met. In some cases it makes perfect sense to coat, but in other cases it is not the best option. So how do you decide?
When Coatings Make Sense
Roof coatings are generally acrylic or asphalt-based products that are applied by hand with rollers or sprayed down by special equipment. They can range in color and density. The most common coating products come in light colors like white and metallic silver, which reduce the abuse that black asphalt roofs are generally subjected to by the suns brutal rays.
Coatings are applicable for commercial roof systems that are structurally sound, free of moisture, and have been routinely maintained and inspected. In this case the coating should be used primarily to extend the life of the currently well-performing roof application for a few more years until replacement or recovery is possible.
Coatings are also applicable when there is already a coating in place. For example, some new roof systems are coated upon completion once installed. If this is the case, the roof and coating system should also be free of wet insulation and have been properly maintained. Re-coating is a good way to keep up the performance of the original roof coating—it also extends the life of the roof system. Again, the roof has to of been previously maintained and assessed to qualify for a re-coat.
When Coating Isn't the Best Option
However, coatings are not the solution for most of today's commercial roof systems. If the roof is holding water or over 15 years old, a coating will not remedy the problem. Unfortunately, Roberts Roofing professionals often see failures occurring when a roof that was already wet or damaged was coated.
Keep in mind that older roofs will be prone to leaks, cracking and peeling. Coating over a wet, old or damaged commercial roof system would be like repainting a car that has a blown engine. It's not taking you anywhere.
Roberts Roofing Company has been a leading provider of innovative commercial and industrial roofing solutions in Cleveland, Ohio since 1981. We provide commercial repair, replacement and maintenance to serve companies of all sizes in Ohio and the surrounding region, offering a combination of technical expertise, custom solutions and quality workmanship to every project.
To find out more about selecting a commercial roofer in Cleveland, Ohio, simply fill out the form on this page and a member of our team will be in touch. Or, you may call us at 440.946.2233.