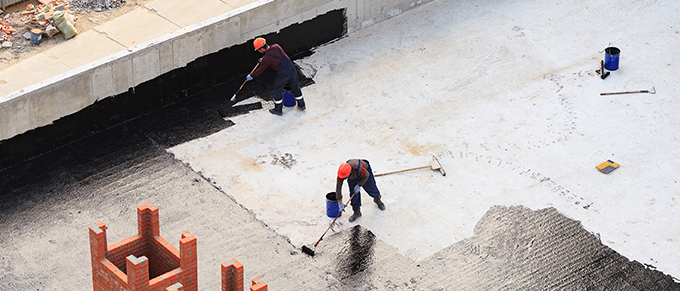 At Roberts Roofing, the majority of the work we do for commercial building owners are roof repairs and replacement. However, it can sometimes make sense to consider roof coating as an option to roof replacement if there are no leaks or trapped moisture.
First, what is a roof coating? The general definition of a roof coating is a fluid-applied adhered coating used for roof maintenance or repair, or as part of an assembly. Typically, roof coatings are installed on top of an existing roof membrane.
Coatings can be used to:
Temporarily avoid tearing off an existing roof
Extend the life of an existing roof by providing protection from the elements
Avoid causing disruptions to the workplace—there is less downtime
Change the color of a roof from dark to light to make it more reflective for energy savings
Commercial Roof Coating Options
A roof coating, which is generally acrylic or asphalt-based, is installed by brushing, rolling or spraying a layer of base coat and a layer of top coat. Other coating options include polyurethane, silicone and elastomeric. However, different roof substrates require different coatings. Whether your membrane is TPO, EPDM, PVC or built-up roofing, coating choices can be made according to weathering and adhesion requirements. Certain coatings perform better on rough surfaces, for example. Coatings range in density and color, so understand that there are many options from which to choose.
An Ecofriendly Option
Roof coating is environmentally friendly. Why? By reusing your existing roof, there is no need to tear off the existing roofing material and throw it away. Roberts Roofing innovative restoration solutions include "Cool Roof" offerings to help lower the temperature of your existing roof. Cool roofs perform well by using materials that are highly reflective.
Are Commercial Roof Coatings Right For You?
Coatings make sense if your commercial roof systems are structurally sound and have been thoroughly inspected. Again, the system must be free of moisture. If your roof is more than 15 years old, a coating may not make sense as a stop-gap measure due to the likelihood of leaks, peeling and cracks.
Think of coatings as a temporary, maintenance step rather than a long-term solution. As a less expensive option they will extend the life of your roof for a few years until replacement becomes the better option.
Roberts Roofing Company has been a leading provider of innovative commercial and industrial roofing solutions in Cleveland, Ohio since 1981. We provide commercial repair, replacement and maintenance to serve companies of all sizes in Ohio and the surrounding region, offering a combination of technical expertise, custom solutions and quality workmanship for every project.
To find out more about selecting a commercial roofer in Cleveland, Ohio, simply fill out the form on this page and a member of our team will be in touch. Or, you may call us at (440) 946-2233.