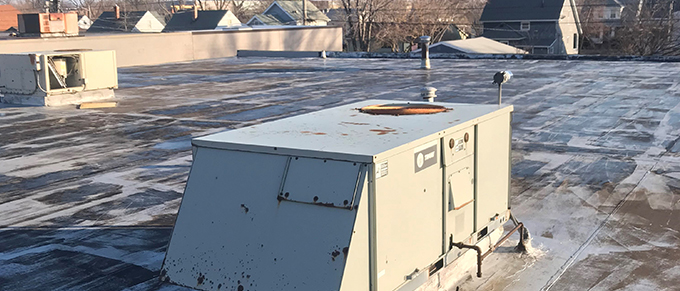 It's an age-old dilemma. When your commercial roof needs attention, do you need to replace the entire roof or can you extend its life cycle by restoring it? In most of the roofs we see, it simply is not cost-efficient to restore a roof that has gone through extensive repairs. Roofs that have passed the point of no return are not good candidates for a roof coating system. That being said, roof restorations cost much less, are less disruptive to your business, often offer tax benefits and will extend the short-term life of your building. So let's look at key factors to help you decide between roof restoration and roof replacement.
Roof Restoration
It may go without saying, but commercial building owners have different ideas of what is involved with a roof restoration. With a restoration, your roofing material is generally left in place. Some repairs may be needed to address minor issues, and then the roof is resurfaced.
The following are good questions to ask when considering a restoration:
Is your roof still structurally sound?
Are there only a few areas of damage?
Have you been keeping up with regular roof maintenance and repair?
Have you had a thorough inspection to help determine whether your flat roof is a candidate for restoration?
The answer to these questions should be a resounding YES. You should also consider whether a restoration could help you save money by covering depreciation over a longer period of time. Remember, a roof restoration can be classified as a maintenance expense.
Roof Replacement
As the name suggests, a replacement will give you a new roof complete with new roofing materials. Any roof that has undergone multiple leaks, significant deterioration or severe damage needs to be replaced.
Here are some questions to consider:
Is the roof near the end of its lifespan (20-30 years)?
Has the roof's structure been weakened due to water absorption?
Was the wrong roofing material used when the roof was originally installed?
Have the flashings deteriorated?
Are there leaks throughout the roof?
In the short term, a replacement is going to cost more than a restoration, but it may be the most cost-effective approach. The last thing you want to do is throw money at problems that keep cropping up year after year. Your decision will largely rest on how much useful life remains in the existing roof and how much damage the roof has incurred over the year. Roof age and material type will influence your decision.
While every building owner hopes that their new commercial roof will last for decades to come, external factors can sometimes cause damage over the lifetime of the flat roof. A thorough roof inspection under the guidance of a professional commercial roofer will provide you with input you need to make this decision. For more information, receive the free guide: The Commercial Building Owner's Guide to Roof Replacement.
Roberts Roofing Company has been a leading provider of innovative commercial and industrial roofing solutions in Cleveland, Ohio since 1981. We provide commercial repair, replacement and maintenance to serve companies of all sizes in Ohio and the surrounding region, offering a combination of technical expertise, custom solutions and quality workmanship for every project.
To find out more about selecting a commercial roofer in Cleveland, Ohio, simply fill out the form on this page and a member of our team will be in touch. Or, you may call us at (440) 946-2233.