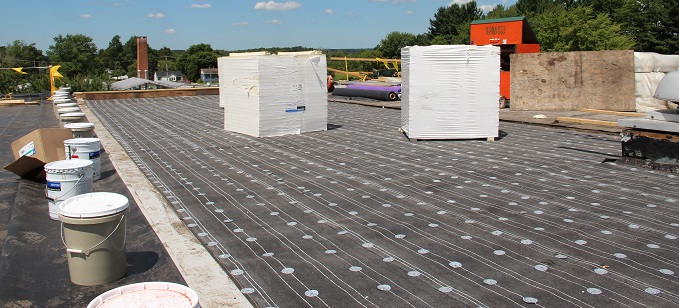 There are numerous commercial roofing systems available and, as a result, there are hundreds of applicable roofing materials. The type of materials used on your commercial roofing system are what determines your warranty.
Most reputable commercial roofing materials manufacturers offer 10, 20 and 30+ year warranties for their roofing systems. These warranties are determined primarily by the thickness, durability and overall quantity of materials used.
A 20- to 30-year warranted commercial roofing specification generally requires an abundance of materials applied to the roof surface. This ensures the finished product will go the distance and, with proper annual maintenance, extend beyond the number of warranted years issued. A 20-year warranted asphalt roof system has been known to last well over 40 years when properly installed and routinely maintained.
For example, a GAF Corporation recover of an existing asphalt roof with dry insulation would require a four-ply fiberglass felt, with each layer set individually in 25 pounds of hot asphalt per ply per 100 square feet. As installed by the certified professionals at Roberts Roofing Company, this "board-over" of the asphalt roof is warranted by GAF for 20 years.
For single-ply membranes, membrane thickness is the key to a long roof life and 20+ year warranty. For example, a GAF Corporation .060 mil, white TPO membrane paired with the GAF RhinoBond fastening system, installed by the certified professionals at Roberts Roofing Company, will garner a 20-year warranty. And with routine and proper maintenance, the materials will last long beyond the warranted mark. TPO thickness varies from the thinner .045 mil, all the way to the .080 mil, and beyond. The thicker the membrane, the tougher the membrane—and the longer the warranty.
Thicker specs and membranes generally require greater know-how from your commercial roofer. It is always smart to check with your commercial roofing materials manufacturer to see if your commercial roofer is certified, let alone capable to apply such detailed roof specifications.
Roberts Roofing has been certified MasterSelect by the GAF Corporation and holds many other certifications for the toughest and thickest roof systems available from all of the major commercial roofing material manufacturers.
To learn more about the material guarantees for commercial and industrial roofing services in Cleveland, Ohio, simply fill out the form on this page and a member of our team will be in touch. Or, you may call us at 440.946.2233.