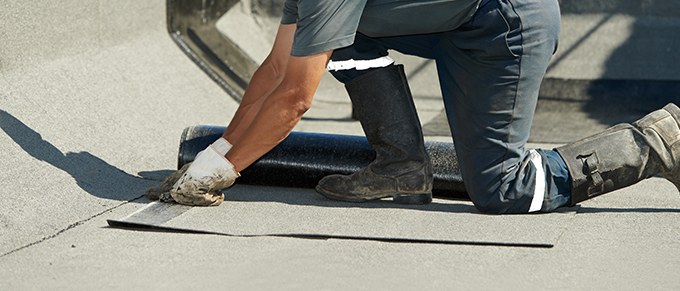 In our latest blog, Preparing Your Flat Roof for the Winter, we mentioned roof coating as one way of getting through winter with your commercial roof intact. Roof coating can also address problems like small leaks that are observed by the ponding of water. In this blog, we'll expand on the topic.
Think of flat roof coatings as a way to extend the performance life of your roof—you typically add to the lifecycle costs of your flat roof. Installers can apply the coating without the need to tear off the existing roof. As a plus, they can provide energy savings.
Restoration options, such as those offered by Roberts Roofing, will address additional roof problems you may be facing, such as:
Lack of surface protection from weather elements and/or foot traffic
Cracked or splitting roof with little or no internal leakage to date
Aged roof which is no longer under warranty


Coating Benefits
In examining the condition of a roof, the commercial roofing contractor, in coordination with the building owner, may decide that coating the roof makes sense to extend maintenance and service life. Other benefits include:
Less downtime and interruptions that can occur with total roof replacement
Energy efficiency gained through significant savings on HVAC costs
A leak-free environment
Warranty protection—some restoration systems are warranted through the manufacturer for up to 10-15 years
Environmental stewardship: You'll improve the sustainability of your building since you'll be reusing your existing roof.


Roof Substrates Require Different Coatings
From built-up roofing to TPO, EPDM and PVC membranes, a wide variety of coatings is available for multiple substrates with different weathering and adhesion requirements. For example, some coatings perform better on rough, irregular surfaces. Cost and performance factors must be taken into consideration by the building owner. A professional roof consultant can help determine the best coating for the roof substrate and which repairs might need to be made before the coating is applied.
Roberts Roofing Company's innovative restoration solutions include "Cool Roof" offerings to help lower the temperature of your existing roof.
To learn more about commercial roof coating options and other commercial and industrial roofing services in Cleveland, Ohio, simply fill out the form on this page and a member of our team will be in touch. Or, you may call us at 440.946.2233.