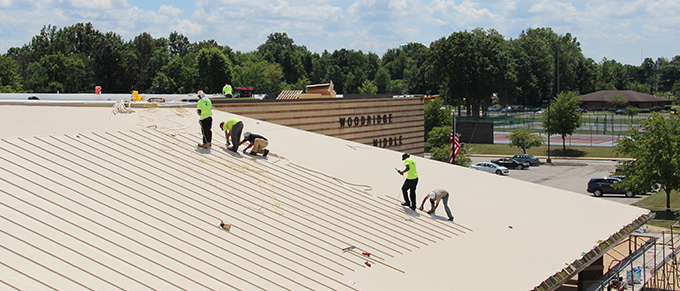 Tight working spaces. Quick turnaround times. Specialized equipment. These are just some of the conditions that we at Roberts Roofing are accustomed to working with, and sometimes they present themselves all in one project.
This was the case for a 90,000-square-foot commercial roof replacement for a Northeast Ohio elementary school. Eighty percent of the sloped roof called for a tear-off of the existing shingles as well as two sections of flat roofs. Our crews replaced the shingles with high-density insulation, perimeter wood blocking and a premium PVC roof system from the Soprema Company. The PVC was installed over the new insulation in a sprayed-on, low-rise adhesive.
The high-performance Soprema PVC system applied was tan in color, and utilized welded PVC battens onto the field sheet. From a distance, we made the roof look like a standing seam metal roof that is aesthetically pleasing, more durable and longer lasting.
Challenges
Our objective was to build a roof system that would last 30 years, and there were a number of obstacles to overcome. First, the school is surrounded by grass. We needed to move our equipment to the roof using an AWD telehandler to load equipment and material onto the roof and special mobile dumpsters to get the debris off the roof without tearing up the lawn. To meet OSHA safety requirements, we began by erecting scaffolding around the entire perimeter of the roof at the gutter edge. This allowed our crews to work without fear of falling off the steep slope roof as well as to reline the gutter with the Soprema liquid roof system.
In addition to the tear-off, we worked with close to 4,000 lineal feet of a custom box gutter that we had to prep by wire brushing and grinding. We installed the Soprema liquid three-course roofing waterproofing system into the 10-inch wide by 10-inch deep box gutter. This liquid material is a two-part mix with a polyester mesh that had to be carefully measured and mixed, then applied immediately as it sets up within minutes, requiring precision coordination with the applicator crew.
School roofing projects have a specific timetable that must be followed regardless of weather or supply problems. Roberts Roofing worked closely with the Soprema Company to make sure the custom tan PVC was readily available and on site before the start date and that quantities were sufficient to complete the job. We staffed this project with three separate crews working on different aspects of the job in strict coordination as each phase overlapped the other. The project called for as many as 30 skilled roofers at one time. Roberts Roofing had the shingle tear-off crews working just ahead of the liquid gutter replacement crew followed closely by the PVC installation crew. This roofing ballet was critical to all phases of the roofing project, tying in together for a seamless professional end product that met the Soprema Company's strict specifications and perform beyond the 30-year life expectancy.
The project was completed correctly and just days before the deadline, allowing students and faculty to return to the classroom on the first day of school under a protective and attractive roof system that will protect them and future generations to come.
With its sloped roofs and large size, the elementary school roof replacement job was unusual for Roberts Roofing, but we had the specialized equipment, manpower and skill to get the job done.
Roberts Roofing Company has been a leading provider of innovative commercial and industrial roofing solutions in Cleveland, Ohio since 1981. We provide commercial repair, replacement and maintenance to serve companies of all sizes in Ohio and the surrounding region, offering a combination of technical expertise, custom solutions and quality workmanship for every project.
To find out more about selecting a commercial roofer in Cleveland, Ohio, simply fill out the form on this page and a member of our team will be in touch. Or, you may call us at (440) 946-2233.