Recoating Not a Substitute for Commercial Roof Replacement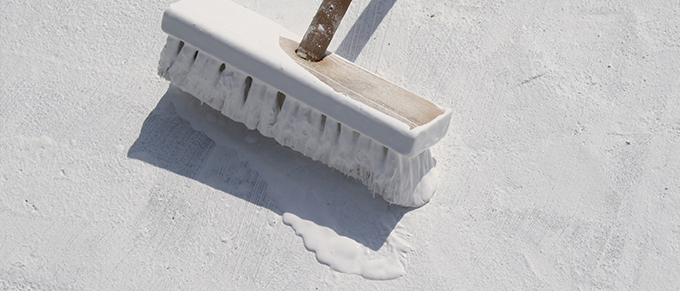 In past blogs, we have addressed instances when applying a coating on a commercial roof can help building owners get by in the short-term. For example, some new roof systems are coated upon completion once installed. As long as there is not a moisture issue and the roof has been properly maintained and repaired, a structurally sound roof can be recoated to keep up the performance of the original roof coating.
However, far too often we at Roberts Roofing Company see coatings viewed as a "miracle in a can." What do we mean by this? Roof coatings should not be used as a Band-Aid approach to patch over persisting commercial roof problems. For example, no coating system is going to fix problems stemming from wet insulation, rotting or corroded decks, failed flashings, or a fractured or brittle existing membrane.
In fact, coatings are typically not the solution for most of today's commercial roof systems. For example, if your roof is holding water, badly damaged, or past 15 years old, a coating won't do the trick. Far too often, the professionals at Roberts Roofing see failures occurring when a roof that was already wet or damaged was coated.
Coating over a wet, old or damaged commercial roof system would be like painting over a basement floor in attempt to cover water stains when the reasons for the water stains still exist. Coatings simply will not adhere properly to a wet roof! The same holds true for flat roofs with excessive dirt, debris and other contaminants. The older a roof is, the more it will be prone to leaks, cracking and peeling.
Sometimes there are structural issues causing the poor performance of a roofing system. The application of a roof coating is not an inadequate substitute for structural repairs at the roof surface.
Again, some roofs can be recoated to extend their life IF the roof is fundamentally sound and was installed properly. Coatings should never be a substitute for a needed roof replacement—they merely provide a protective coating to extend the life of the currently well-functioning roof application for a few more years until replacement is possible. If repairs to the roof are extensive, or if 25% or more of the roof is damaged, it is best to replace your roof.
Roberts Roofing Company strongly recommends yearly maintenance for your new commercial roof system as well as preventive maintenance for your existing commercial roof system. We can help you determine the best solution to your commercial roofing problems.
Roberts Roofing Company has been a leading provider of innovative commercial and industrial roofing solutions in Cleveland, Ohio since 1981. We provide commercial repair, replacement and maintenance to serve companies of all sizes in Ohio and the surrounding region, offering a combination of technical expertise, custom solutions and quality workmanship to every project.
To find out more about selecting a commercial roofer in Cleveland, Ohio, simply fill out the form on this page and a member of our team will be in touch. Or, you may call us at 440.745.8578.