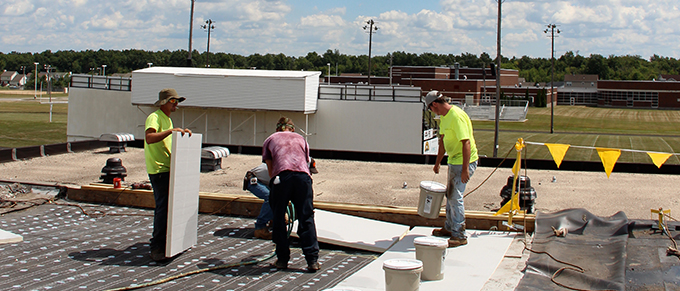 As commercial roofers in Northeast Ohio for more than 35 years, we at Roberts Roofing typically blog about flat roof repairs and replacements, commercial roofing systems, safety, annual inspections and…well, you get the idea. This time, however, we want to discuss what is at the heart of our longevity, and what we want our customers to rely on for decades to come—our top-quality professionals.
We know there's a lot of competition out there for hardworking, committed individuals who are looking for a rewarding career. That's why we've produced a brief video, "5 Reasons to Consider a Commercial Roofing Career With Roberts Roofing." Our one-minute video touches on our great family environment, unlimited growth opportunities, superb training, competitive compensation package and more.
If you know someone who may be interested in joining our team, be sure to share this video link with them. If you are looking for a job in commercial roofing, please view our video and apply online.
Roberts Roofing is committed to providing commercial building owners with top-quality service from professionally trained commercial roofers. We look forward to growing our team and serving you for years to come.
Roberts Roofing Company has been a leading provider of innovative commercial and industrial roofing solutions in Cleveland, Ohio since 1981. We provide commercial repair, replacement and maintenance to serve companies of all sizes in Ohio and the surrounding region, offering a combination of technical expertise, custom solutions and quality workmanship to every project.
To find out more about selecting a commercial roofer in Cleveland, Ohio, simply fill out the form on this page and a member of our team will be in touch. Or, you may call us at 440.946.2233.