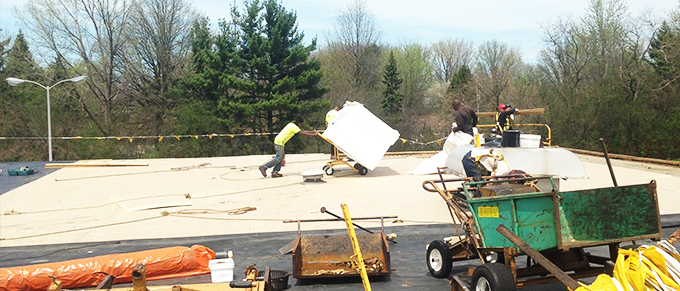 The skilled labor shortage that is prevalent across many industries in the U.S. also affects the commercial roofing industry. As senior workers retire, there is a smaller pool of available talent from which to hire. As we touched on in a previous blog, we at Robert's Roofing know there's plenty of competition out there, especially when we're committed to providing our customers top-quality professionals.
For example, our company currently seeks a skilled, reliable commercial roofing foreman for a long-term career at Roberts Roofing. The following Q&A explains what a foreman can expect by working for us, and the requirements we need in an individual for the position.
Q. What are the duties of the commercial roofing foreman?
RR: We expect the foreman to supervise and coordinate a 5-9-man roofing crew, from tear-off to installation. The foreman should be able to communicate thoroughly with clients and business owners, and determine which materials are needed for a particular roof specification.
Q. What are the requirements of the foreman position?
RR: We are looking for a person with the following requirements:
Three+ years' experience coordinating and managing commercial roofing crews
Past employment documentation
Basic math skills
Proficient in built-up asphalt systems and/or single-ply membrane systems
Ability to lay up certain roof specifications daily and in a reasonable timeframe
Must be able to lift 50 pounds and perform manual labor in various weather conditions for extended periods of time
Q. What benefits do you offer at Roberts Roofing?
RR: We offer a competitive compensation and benefits package that include the following:
Industry-leading compensation
Health benefits
Signing bonuses available
Reimbursement of interview travel expenses
401(k) program
Company profit sharing
Paid vacation and holidays
Attendance bonuses
Company truck provided
Friendly, family business environment
Certification courses
Work outdoors
Ability to earn enough dry-weather compensation to enjoy winters off
Q. What else should I know about working at Roberts Roofing?
RR: Applicants should know that Roberts Roofing is a drug-free workplace. Only applicants of interest will be contacted. Additionally, Roberts Roofing is an equal opportunity employer and does not discriminate in hiring or employment, in accordance with the requirements of all applicable laws, including race, color, religion, national origin, ancestry, age, gender, marital status, military status, sexual orientation, disability or medical condition.
Watch Our Brief Video
Our video, "5 Reasons to Consider a Commercial Roofing Career With Roberts Roofing," highlights the growth opportunities, training, competitive compensation package, family environment and more that sets Roberts Roofing apart from the competition.
If you know someone who may be interested in joining our team, be sure to share this video link with them, or just send them to our website, where the video is posted. If you are looking for a job in commercial roofing, please view our video and apply online.
Note: All interviews are conducted anonymously/ confidentially and with respect to the potential candidate if they are currently employed at a competitor.
Roberts Roofing Company has been a leading provider of innovative commercial and industrial roofing solutions in Cleveland, Ohio since 1981. We provide commercial repair, replacement and maintenance to serve companies of all sizes in Ohio and the surrounding region, offering a combination of technical expertise, custom solutions and quality workmanship for every project.
To find out more about selecting a commercial roofer in Cleveland, Ohio, simply fill out the form on this page and a member of our team will be in touch. Or, you may call us at (440) 946-2233.