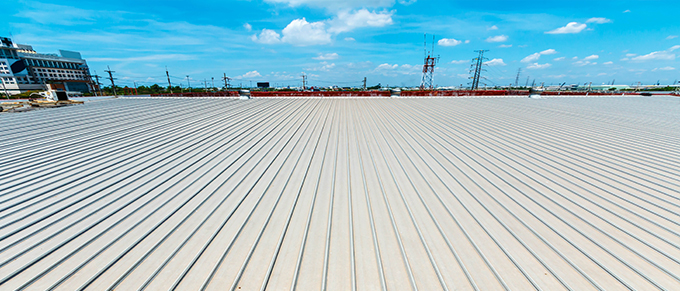 Metal roofing is a fairly common specification in commercial building plans. The metal roof panels are generally laid out in a standing seam pattern with nothing but rivets and screws on the surface. Insulation, if included at all, is generally applied to the underside of the roof deck from within the facility.
Metal roof systems are a functional and efficient roof systems, but they aren't exempt from issues. The roof deck itself is often the only thing separating the inside of the facility from the elements above. It is not uncommon for metal roof systems to suffer from oxidation and rusting; rivets and fasteners popping loose or lifting; and stress-related penetrations.
When replacing a metal roof system, several solutions are available. Other than the removal of old metal panels and replacing with new matching panels, you can apply flat stock insulation boards directly to the prepped metal roof surface, and then apply a warrantable built-up or single-ply roof system. It is very easy to secure a 20- to 30-year complete warranty from most commercial roof system manufacturers this way.
Another option is coating the roof surface. Special circumstances apply before the coating of any roof system, but most metal roof systems receive some type of protective coating after installation.
Maintaining and repairing a metal roof system is just as simple as maintaining any other commercial roof system. Special materials must be used, primarily elastomeric products, instead of asphalt-based products, which may be harmful to the metal roof surface or fail to seal anything.
Metal roofs can be an attractive option due to their longevity, minimal maintenance and energy efficiency, as long as you are aware of some of the issues to watch for. If you are considering a metal roof as a potential replacement for your aging roof, the professional team at Roberts Roofing can help you determine what makes the most sense.
There are many options when selecting the right roofing system for your commercial facility. The Roberts Roofing team of certified roofing experts can walk you through the choices to determine the best roofing system for your commercial building.
Do you have questions about your commercial or industrial roof? We welcome you to download our free e-book, The Commercial Building Owner's Guide to Roof Replacement, to learn more.
Roberts Roofing Company has been a leading provider of innovative commercial and industrial roofing solutions in Cleveland, Ohio since 1981. We provide commercial repair, replacement and maintenance to serve companies of all sizes in Ohio and the surrounding region, offering a combination of technical expertise, custom solutions and quality workmanship to every project.
To find out more about selecting a commercial roofer in Cleveland, Ohio, simply fill out the form on this page and a member of our team will be in touch. Or, you may call us at 440.508.4068.