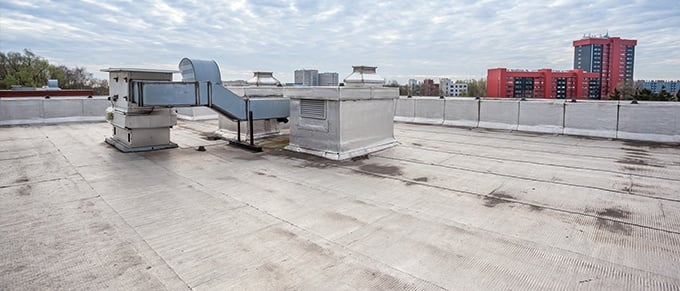 With spring only one month away Northeast Ohio is holding its collective breath, wondering whether our mild winter weather will hold out. While the thermometer has been hovering above freezing more often than is typical, heavy winds, ice and numerous freeze/thaw cycles can wreak havoc on commercial and industrial roofs.
What is your plan for 2020? Are you taking steps to extend the life of your flat roof? Fortunately, with some preplanning, it's not too late to take action that will save you money in the long run.
Schedule Your Spring Inspection…Now
Reputable commercial roofers already are filling their calendars for spring inspections. These inspections are critical to identifying and resolving issues that may have cropped up over the winter. If you had any minor issues in the fall, you want to make certain they have haven't grown into a larger problem. An inspection will identify winter damage and the need for repairs.
Your professional commercial roofer should look for the following:
Damaged fasteners
Punctured membranes, or those split from freeze/thaw cycles
Clogged or damaged drains and gutters
Loose seams
Loose seals around drains or vents
Spongy spots in the roof field
Signs of mold or algae
Signs of leaks inside your building
Also, keep in mind that most roofing manufacturers require regular maintenance to keep warranties current. Be sure you understand what their requirements are.
Save Money by Spending Now on Commercial and Industrial Roof Maintenance Services
When you pay to repair vertical seams, coat flashings or replace loose fasteners, you are saving the cost of major repairs should these problems go undetected. It's just like turning up the volume on your latest playlist in the car so you don't hear that grinding sound. What could have been a $200 car repair bill can grow into a $2,000 problem. Don't try to save money now by waiting to call in the professionals for an inspection.
Protect Your Flat Roof's Surface
Once the weather improves, you may have an inspection of your HVAC system and other units that require access by electricians and other utility workers. If you provide a designated walkway, padding or even railings, you can prevent accidental punctures and other damage by keeping sensitive areas protected. When you do anticipate heavy foot traffic, it is worthwhile to have your commercial roofer or facility manager inspect the roof following the activity.
Ensure Water Flow
We write about leaks—a lot! There's a reason for that. So many flat roof problems stem from water. One of the easiest ways to ward off problems before they occur is to keep that water running—away from the roof, that is. Make sure that your gutters, drains and downspouts are free and clear. Keep them clean and free of debris. You'll save yourself a lot of money and grief.
It bears repeating: don't delay repairs. The only way you will be reassured by the health of your flat roof in 2020 is to take preventive measures. Start now by scheduling your spring roof inspection.
Roberts Roofing Company has been a leading provider of innovative commercial and industrial roofing solutions in Cleveland, Ohio since 1981. We provide commercial roof repair,
replacement and maintenance services to serve companies of all sizes in Ohio and the surrounding region, offering a combination of technical expertise, custom solutions and quality workmanship for every project.
To find out more about selecting a commercial and industrial roofing contractor in Cleveland, Ohio, simply fill out the form on this page and a member of our team will be in
touch. Or, you may call us at (440) 946-2233.