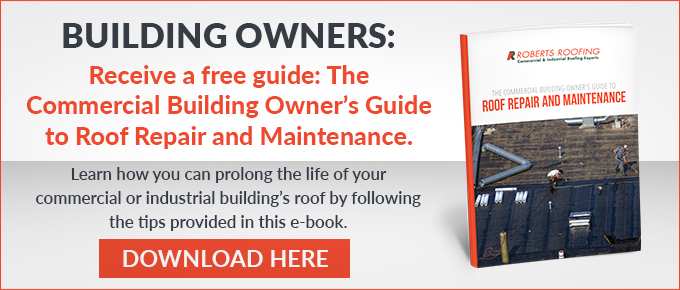 How can you tell if your commercial roof needs maintenance? Can you recognize the warning signs of damage? As a business owner you have plenty of other expenses to think about, so it can be helpful to know what to expect from your roof warranty and how to get the longest possible life out of your roof.
Just as you wouldn't buy a car and fail to keep up with the manufacturer's required maintenance checks, there are regular maintenance inspections for your roof that you need to make to be sure you are honoring the materials warranty. In fact, the failure to correct minor roof defects in their earliest stages is the greatest cause of costly roof damage down the road.
It is always recommended that Northeast Ohio commercial building owners proactively look for signs of damage on their commercial roofs. By spotting a problem early, you could avoid spending thousands of dollars on major roof repair or replacement.
Roberts Roofing Company has assembled a free guide to help building owners understand what to expect from their professional roofing contractors when it comes to repairs and maintenance, and also to recognize the earliest signs of damage.
Our free 18-page e-book includes:
Chapter 1 – Does My New Commercial Roof Need Maintenance?
Chapter 2 – Warning Signs of Commercial Roof Damage
Chapter 3 – What Should I Expect During Commercial Roof Maintenance?
Chapter 4 – Maintenance Agreements versus Roof Warranties: Which Offers Greater Protection?
Chapter 5 – Managing Your Roof During Cold Weather Season
Chapter 6 – How to Prolong the Life of Your Commercial Roof


Roberts Roofing Company has been a leading provider of innovative commercial and industrial roofing solutions in Cleveland, Ohio since 1981. We provide commercial repair, replacement and maintenance to serve companies of all sizes in Ohio and the surrounding region, offering a combination of technical expertise, custom solutions and quality workmanship to every project.
To find out more about selecting a commercial roofer in Cleveland, Ohio, simply fill out the form on this page and a member of our team will be in touch. Or, you may call us at 440.946.2233.