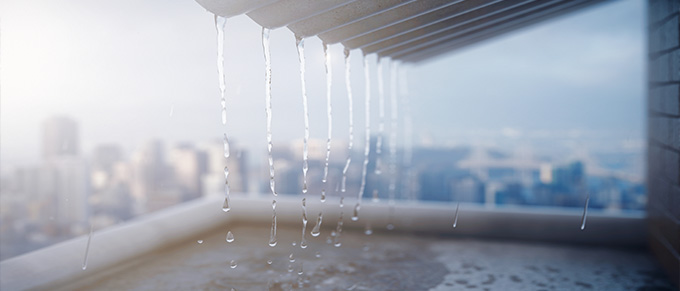 While spring is a time of renewal in Northeast Ohio, it can also be the time when commercial building owners notice signs of leaking. The culprit? A roof that has experienced the elements of Ohio winters.
As the weather warms, it's a good idea to proactively seek the expertise of a qualified commercial roofer to look both inside and outside your building for signs of damage. A good time to look is after a heavy spring rain. A thorough inspection of your roof can reveal loose or deteriorated flashing, split membranes and other damage from debris, such as tree branches. The professionals as Roberts Roofing will inspect your roof in the spring with specific attention to the following four areas:
Flashing
Flashing, which prevents the passage of water into a structure, is critical to your roof's ability to prevent leaking. The perimeter flashing on the walls or edges is a primary leak offender. Your flashings will not last as long as the rest of the roof system, so you will need to inspect them on a regular basis. During an inspection, your professional roofer will look for signs of damage, such as rust, splits in flashing seams and sealant that has deteriorated. It's also important to inspect the flashing at walls and curbs for any punctures.
Sealants
Speaking of sealants, watch for common caulking issues, such as deterioration, cracking and openings. Spring is a good time to re-caulk or repair these problems.
Roof Penetrations
Roof penetrations include pipes and drains—really, anything that protrudes through your roof's surface. HVAC units, vents and gas lines can all be sources for leaking, so be sure to have any problems diagnosed and repaired.
Roof Surface
On built-up roofs, areas with missing gravel or exposed felts should be addressed. On PVC or rubber roofs, look for cracks and holes. Roof seams that have cracks or holes should be sealed. Ask your roofing professional to test the integrity of the roof membrane. One last thing…you'll want to inspect your roof's perimeter to identify any mold, algae or "spongey" spots.
Sometimes it's all too easy to ignore these common signs of leaks. However, your roof inspection may reveal problems that will require repair this spring. If you notice a leak in your roof, take immediate action. By repairing problems when they are manageable you will likely be able to avoid spending thousands of dollars later this year.
Once again, we encourage you to get in touch with a qualified, professional commercial roofing contracting to conduct a thorough spring roof inspection.
Roberts Roofing Company has been a leading provider of innovative commercial and industrial roofing solutions in Cleveland, Ohio since 1981. We provide commercial repair, replacement and maintenance to serve companies of all sizes in Ohio and the surrounding region, offering a combination of technical expertise, custom solutions and quality workmanship for every project.
To find out more about selecting a commercial roofer in Cleveland, Ohio, simply fill out the form on this page and a member of our team will be in touch. Or, you may call us at 440.946.2233.