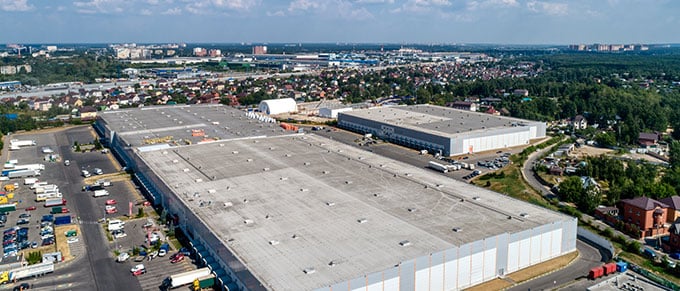 A commercial warehouse is a major investment. Protecting that investment starts from the top down—literally. The flat roof of a commercial warehouse is the lifeline of the building, protecting your investment and the contents inside.
Well-maintained roofs can last for years, but whether through damage or time, you will eventually have to replace the roof. How do you know when it's time to replace your warehouse roof? Damage does not always mean replacement, even if there are problems in multiple areas. Let's go over what to consider when replacing a commercial warehouse roof.
Types of Roofs
First, consider the type of roof you have and its expected lifetime.
Metal: Metal commercial warehouse roofs can be made of aluminum, which is costly, but is chosen for durability and longevity. Steel (typically galvanized or plated with zinc to resist rust) is also common and can be a less expensive option but is not as durable as aluminum. Metal roofing can last 100 years or more if properly installed and well maintained.
Built-up roofing: This is one of the most common types of commercial roofs, with multiple membranes that seal and protect. It is a great insulator due to the multiple layers (which can make it very heavy) and can last 20-30 years.
Modified bitumen: Similar to built-up, this is a rugged and flexible material made from viscous petroleum mixed with either rubber or plastic and reinforced with fiberglass, glued on in one or two layers, so it's lighter than built-up. It offers great waterproofing capabilities that can last for around 20 years.
TPO: TPO or thermoplastic polyolefin is an affordable roofing material, rolled on in single, highly reflective and durable sheets. The sheets are bonded together and generally last up to 25 years, though maintenance on seams is important.


Questions to Ask about Warehouse Roof Replacement
Second, consider the age and stage of your business and your warehouse roof:
Is your roof still under warranty? Check with your insurance company if you're not sure.
How old is your roof? Consider the type and life span of your warehouse roof material. Continued repairs on an old roof can be throwing good money after bad.
Will you be vacating the business soon? If so, you may not want to invest in a complete roof replacement.
Are you greening your business? Changing the type of materials on your roof can help drive down your energy costs. Roberts Roofing can help you evaluate costs vs. benefits of different warehouse roof materials.
How many places on the roof are problematic? Are there areas where foot traffic or weather has caused repeated damage that you have to keep repairing? Having many places that need repair doesn't necessarily mean you need to replace the whole roof, but you should consult with an expert so that you're not wasting money on a repeated problem.


Start with an Assessment of Your Warehouse Roof
The best way to know whether it's time to replace your commercial warehouse roof is by getting an inspection from a trusted roofing company that won't try to sell you a solution that you don't need or create a problem where one doesn't exist.
Whatever type of roofing material you have, Roberts Roofing has worked with it. We have over 40 years of experience serving as a trusted roofing company for dozens of Northeast Ohio businesses. We offer full-service repair, maintenance, installation and replacement of commercial warehouse roofs. Contact Roberts Roofing online today to schedule an appointment for an inspection and assessment, or call us at 440-946-2233.