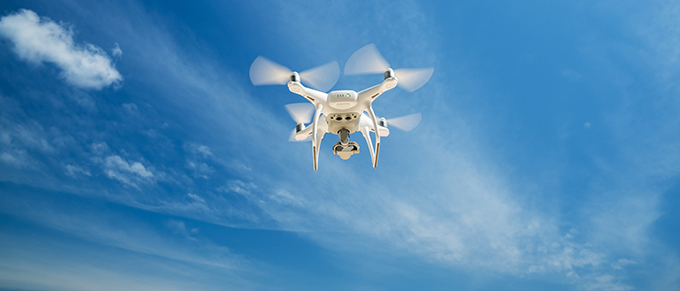 Now that the Federal Aviation Administration (FAA) has relaxed some of its regulations governing the non-recreational use of drones to gather data, commercial roofing contractors are finding ways to take advantage of the technology to improve business practices with their customers.
Here are some of the advantages of utilizing drones that we see for both commercial roofing contractors and building owners:
1.) Thorough Commercial Roof Inspections
The ability to take videos of an entire roof can more clearly show commercial roof owners the condition their roof is in. Drones take into account roof dimensions, roof conditions and any material on the roof. Some roofers are already using drone-based thermal imaging inspection to check for leaks or warning signs of wetness. After the inspection, the roofer can review any areas of concern with the building owner and the plan to correct them.
2.) Greater time efficiency
When you think about commercial roof repair or replacement, it's often the preliminary work that can be the most tedious and time-consuming for both the contractor and the customer. Drones can save time and money by letting the commercial roofing contractor plan more thoroughly in terms of measurements, the best placement for materials and points of entry/exit to the job site.
3.) Cost Savings
Drones can eliminate the need for commercial roofers to conduct every inspection in person. By eliminating the need to load pickup trucks and other materials to the job site, the commercial roofer can pass on some cost savings to the building owner. At $1,000 or less for most drones, the math can certainly add up to cost savings.
4.) More Accurate Estimates
Drone hardware and their companion software has already helped roofing companies deliver estimates with spot-on accuracy. That helps to eliminate guesswork.
5.) Increased Safety
At Roberts Roofing Company, we place great emphasis on the safety of our customers and that of our own crew. It goes without saying that eliminating extra trips to the rooftop will cut down on safety risks that become even greater on deteriorating older buildings or after a severe storm. If drones can provide us with a greater sense for what we're dealing with, we can alleviate some of the risks inherent in roof repair and replacement.
At the same time, it is incumbent upon commercial roofers to learn drone safety and undergo all training necessary to overcome the operations learning curve.
Roberts Roofing is always looking for ways to offer our customers the best-in-class methods to inspect, maintain, repair and replace commercial and industrial roofs—all at a fair price. While we are not utilizing drones at this time, we are open to considering any new idea that makes us work more efficiently with you.
Roberts Roofing Company has been a leading provider of innovative commercial and industrial roofing solutions in Cleveland, Ohio since 1981. We provide commercial repair, replacement and maintenance to serve companies of all sizes in Ohio and the surrounding region, offering a combination of technical expertise, custom solutions and quality workmanship to every project.
To find out more about selecting a commercial roofer in Cleveland, Ohio, simply fill out the form on this page and a member of our team will be in touch. Or, you may call us at 440.946.2233.