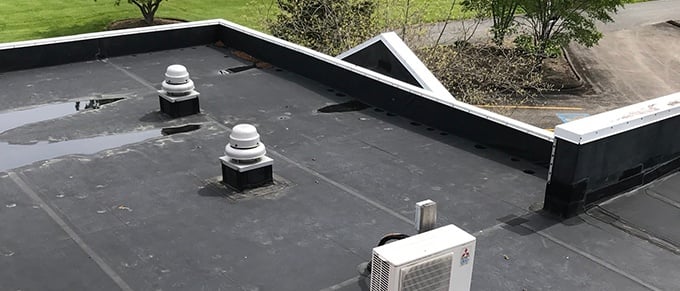 One of the most frequently asked questions we get at Roberts Roofing is why large commercial roofs generally are flat. We hope this article helps to answer this question—and provides useful information when considering how best to maintain your flat commercial roof over time.
First, one point of clarification: Flat commercial roofs, from a technical standpoint, aren't 100% flat. No roof is. In fact, even if a commercial roof looks flat, it must be slightly sloped by up to 12 degrees – either toward the middle or the edges – to allow for adequate drainage. So, when we refer to "flat" commercial roofs, keep this in mind.
That said, flat roofs generally are significantly more cost-effective than pitched roofs for eight primary reasons:
1.) Flat commercial roofs are easier to install on large commercial buildings. While it's relatively simple and straightforward to install a pitched, or sloped, roof on a residential building, it becomes difficult – even dangerous – to do so on a larger commercial structure.
2.) HVAC units, which in many cases are large and heavy, can be easily housed and maintained on flat commercial roofs. This, in turn, saves valuable space inside the structure for things like offices, manufacturing space, showroom space and more. It also eliminates the need to house HVAC units on the ground outside commercial structures, so that means less noise in high-traffic areas, and better utilization of that space for other purposes. Additionally, housing HVAC units on top of commercial roofs greatly reduces opportunities for vandalism or other damage from people in and around the structure.
3.) Commercial buildings with flat or low-slope roofs aren't built with aesthetics in mind, so there's cost savings in not having to worry about installing things like shingles or other elements that enhance the building's curb appeal.
4.) Flat or low-slope commercial roofs can utilize white or other highly reflective materials which resist damage from the sun's UV rays, protect against solar heat gain, keep interior spaces cool, reduce energy costs and contribute to a greener planet.
5.) Likewise, greenery/organic material can be planted on flat or low-slope commercial roofs where and when appropriate (through industry-standard best practices) to again absorb UV rays, absorbing water to prevent leaks and other damage and overall, provide an earth-friendly solution.
6.) Flat commercial roofs generally don't use gutters—which in the realm of commercial properties is a good thing. Many homeowners know the unpleasantness of climbing ladders each autumn to clear out leaves and other debris from residential gutters. Take that task and multiply it several times to account for (usually) larger-sized commercial structures, and it's easy to see how eliminating gutters eliminates the associated time and expense of keeping them clean.
So, how are commercial roofs equipped to handle water and other debris? Well-designed, sturdy and reliable rainwater roll-off systems are used to help ensure that rain won't clog or damage flat roof drains. Some systems even redistribute rainwater to rooftop gardens and organic material.
7.) There's also the maintenance of the roof itself. Flat or low-slope commercial roofs are much easier to access, walk around on and maintain than sloped roofs.
8.) Finally, flat or low-slope roofs have long been known as durable and long-lasting. Such roofs utilize asphalt, an affordable material that, with proper maintenance, can last up to 50 years. Similarly, durable and reliable solutions such as EPDM roofing (a synthetic rubber roofing membrane used in commercial buildings throughout the world), PVC (polyvinyl chloride) and TPO (thermoplastic polyolefin) can provide more than 30 years of service before requiring replacement. As many commercial building projects are undertaken with tight budgets, flat roofing is an ideal means to keeping project costs and budgets aligned..
Why Are Some Roofs Pitched?
Pitched roofs do serve a valuable function—but again, they are most often used on residential structures. Pitched residential roofs provide attic space for storage—a valuable asset in many residential homes. Additionally, water drains easily off pitched roofs into gutters, making drainage a relative breeze. When commercial buildings are built with pitched
roofs, those structures are most often built with a single or unique purpose in mind—for example, a restaurant with a particular architectural concept.
Not All Flat Commercial Roofs Are Created Equal
While flat or low-slope roofs generally are the accepted norm for commercial and industrial structures of all sizes and scopes, it's far from a one-size-fits-all proposition. There are numerous considerations when selecting the right roof for your commercial building. Therefore, it's essential that you seek professional advice from an experienced and successful commercial roofer before undertaking any roofing project. For tips on hiring a top-quality commercial roofer, read our recent blog on the subject.
Roberts Roofing Company has been a leading provider of innovative commercial and industrial roofing solutions in Cleveland, Ohio since 1981. We provide commercial roof repair, replacement and maintenance services to serve companies of all sizes in Ohio and the surrounding region, offering a combination of technical expertise, custom solutions and quality workmanship for every project.
To find out more about selecting a commercial and industrial roofing contractor in
Cleveland, Ohio, simply fill out the form on this page and a member of our team
will be in touch. Or, you may call us at (440) 946-2233.
---