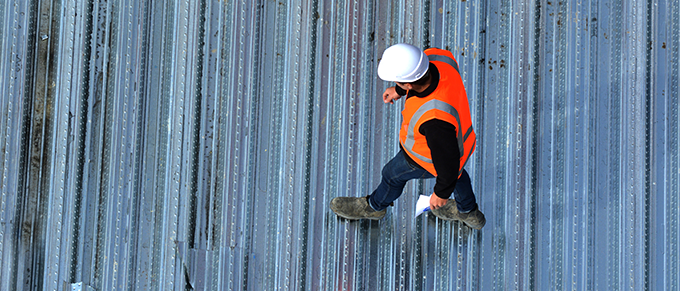 Brown spots, smells, stains, or worst of all – water dripping from the ceiling – are all signs your commercial building's roof has a problem. Do you know all of the signs that indicate your roof may have a leak?
When you suspect a roof problem, you need a trusted professional who will evaluate the situation fairly and be clear and honest about what needs to happen to repair and restore your roof – someone who can be trusted to do the job right without overcharging you or billing you for unnecessary work.
Robert's Roofing has decades of experience serving satisfied Northeast Ohio customers.
Harsh Climates, Sturdy Roof
Our harsh and unpredictable Ohio weather can cause damage to a commercial building roof during any season. Even relatively new roofs can incur damage from high winds, heavy rains, or the buildup of ice and snow.
Roof leaks can quickly lead to very costly structural damage and should be addressed and fixed as soon as possible. To protect your commercial building, you should not only get a free annual roof inspection, but also anytime you see or smell indications of water damage.

Signs of a Commercial Roof Leak
For starters, examine your property from the inside.
Here are some signs you may need a free commercial roof inspection from Robert's Roofing:
Brown water stains on walls and/or ceilings
Wrinkled or warped walls, drywall or wallpaper
Rust or rust spots
Musty odor or visible mold
Visible water leaks, drips, or pools
Visible damage to roof or flashing
High winds can knock flashing loose. Heavy rains find the weakest point of your roof and collect water, which can then lead to expensive repairs.
The experienced Northeast Ohio roofing professionals at Robert's Roofing know the importance of carefully inspecting a commercial property inside and out for signs of a damaged and/or leaky roof. Your property is an important investment. Promptly repairing roof leaks helps protect that investment.

What Happens During a Commercial Roof Inspection?
The inspection process usually takes 30-60 minutes, depending on what we find and how big the property is. We begin with an inside inspection, checking for locations where water damage is apparent and then following the path the water has made to get to the origin of the leak. Then we proceed to the outside, where we check the entire roof for signs of damage, including:
Pooled water

Holes and blisters

Cracks or bulges

Damaged or missing roof shingles

Loose, missing, or deteriorated flashing

Split roofing membranes

Damage from debris
We pay particular attention to the perimeter, as this area has a higher propensity to leak, and then work our way around, examining every part of the roof until we get to the center. We also take material samples (core samples) to determine the level of water saturation, and the age and condition of the roof.

Commercial Roof Inspection Report
Once have conducted our free inspection, you will receive a detailed report about the condition of the roof, the area(s) where damage has been observed, a description of the damage and an estimate to make repairs.
In cases of severe damage, repairing and restoring the roof to good health may not be possible, in which case replacement is recommended. All of this will be detailed in our report, which we will go over with you in detail to make sure all your questions are answered.
We work with our clients to create custom solutions and will make sure you are aware of all of your options.

Cleveland Commercial and Industrial Roof Repair
Roberts Roofing Company has been a leading provider of innovative commercial and industrial roofing solutions in the Greater Cleveland, Ohio area since 1981. We serve companies of all sizes in commercial roof repair, roof replacement and roof maintenance. We pride ourselves on our combination of years of technical expertise, custom solutions and quality workmanship for every project.

Contact Roberts Roofing today for a free commercial roof inspection for your Northeast Ohio commercial property. You can reach us through our online form, or by calling 440-946-2233.