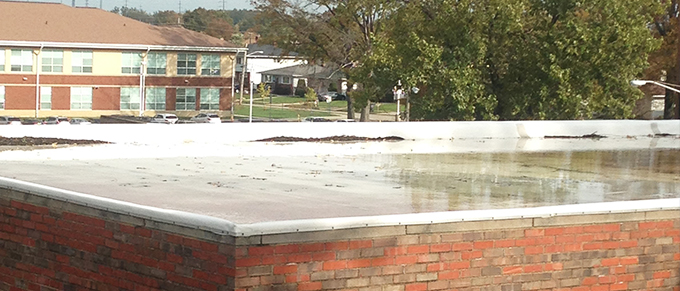 Roberts Roofing Company has been providing commercial and industrial roofing solutions in Northeast Ohio since 1981. Our success stems from successfully partnering with commercial building owners and facility managers to determine the best approach for their particular needs. While we are available to assess any problem, we work with our customers to spot problems and take steps to proactively address immediate needs between scheduled maintenance inspections.
There's no doubt that facility managers who are proactive can add years to the average lifecycle of their roofs. Here are 10 steps you can take for cost savings and better roof performance.
Check your flat roof for debris that can clog drains, gutters or downspouts, or cause harm to your roof deck.
Examine peripheral of your building for broken tree limbs and branches, wires and any other overhangs that could potentially harm your roof deck.
Limit the number of contractors who access your roof, and specify walkways they can use to limit roof exposure to heavy or hazardous equipment.
Check mechanical equipment and doors to ensure they are firmly sealed.
Be on the lookout for any odd holes that don't belong on the roof—they could be red flags that your roof system is compromised
Look for any signs of ponding water, moisture where it shouldn't be (ceilings), dripping—you get the picture. Water should be draining, not accumulating. If in doubt, call your professional roofing contractor sooner than later. Waiting can be expensive.
Conduct a self-inspection after significant weather events like high winds, excessive rainstorms, hail and repeated freeze/thaw cycles.
Do you see vegetation growing where it doesn't belong? Call your roofer—it signifies a pocket of moisture, seedlings and the right combination of decomposition that has essentially evolved into a mini hydroponic system. Unless your roof is specifically designed for it, this is something that can cause harm to your roof system.
Notice any foul smells inside your building that can't be traced to any source—it could be mold, and you'll need a professional roofing inspection.
Watch for rust…anywhere. Whether it's downspouts, fasteners or flashing, rust is a sign of deterioration and it needs to be checked early.
If you're a frequent reader of our blog, you already know that Roberts Roofing strongly advocates two inspections a year, and spring and fall are ideal. Our professional commercial roofing crew will conduct a thorough inspection to address your concerns and look beyond what's visible to you. We always welcome your proactive partnership and will respond to any questions or concerns you may have.
Roberts Roofing Company has been a leading provider of innovative commercial and industrial roofing solutions in Cleveland, Ohio since 1981. We provide commercial repair, replacement and maintenance to serve companies of all sizes in Ohio and the surrounding region, offering a combination of technical expertise, custom solutions and quality workmanship for every project.
To find out more about selecting a commercial roofer in Cleveland, Ohio, simply fill out the form on this page and a member of our team will be in touch. Or, you may call us at (440) 946-2233.