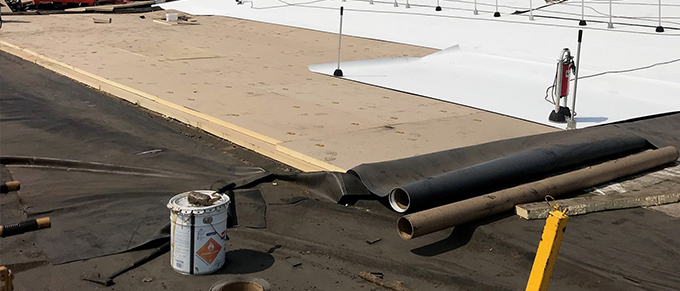 When you own a commercial or industrial building, you have to weigh many factors to keep your building in good working order. When it comes time to replace your flat roof, the color of the membrane that protects your building might not be on the top of your mind, but maybe it should be. It's important to not make decisions based on misleading assumptions.
Any debate about which single-ply system to use invariably leads to a debate about color. Black EPDM surfaces absorb heat while white TPO and PVC membranes can better reflect it. However, each has its advantages and works in a variety of situations.
For example, it would seem logical that you don't want to use a black membrane in a hot climate. Generally speaking, white membranes reduce solar radiation collected by a roof's surface, which decreases the roof's contribution to the overall energy used to condition air. But that's not the whole story.
That's why it's important to not fall for some long-held myths. Consider the following:
Some manufacturers will argue that a white membrane is more durable, but that is misleading. Any membrane will be stronger if its surface temperature is lower on a roof. Every building is different and what membrane is durable for one might not necessarily be the best choice for another. The truth is that all membranes have lower durability in southern climates than more moderate ones despite the color.
Black roofs will absorb more heat and on sunny winter days, which will boost the efficiency of your heating system. In fact, some manufacturers suggest that a black membrane lowers heating costs enough to offset any penalty for added cooling costs. Not always true. For climates like ours in Northeast Ohio, does the climate justify black or white? It really comes down to a careful calculation of the number of heating days and the number of cooling days.
It might surprise you to learn that white roof membranes can actually increase energy consumption in cold climates. Seems counterintuitive, right? White membranes are supposed to be the most energy-conserving roofing system. Studies at Berkeley Laboratories in the late 1990s and early 2000s certainly backed the efficacy of using white reflective roofing. But the studies stopped short of considering thermal performance and air infiltration, two important factors.
From an environmental perspective, you might want to consider the high reflectivity of white roof membranes. They can direct heat upward – a good thing for the roof – but a Stanford University found they mix with dark soot particles and potentially contribute to global warning.
The Superdome in New Orleans, which features a reflective roof, requires regular cleanings at a price tag of nearly $100,000 in order to maintain a clean, reflective surface and inhibit mold and mildew accumulation.
The debate over white and black roofs will continue, just as it has for years. There are many deciding factors that need to be weighed to make an educated decision. Whether it is cost, durability or efficiency, the key to making the right decision is knowing the differences and having a roofing professional you can trust guide you through the process.
Roberts Roofing Company has been a leading provider of innovative commercial and industrial roofing solutions in Cleveland, Ohio since 1981. We provide commercial repair, replacement and maintenance to serve companies of all sizes in Ohio and the surrounding region, offering a combination of technical expertise, custom solutions and quality workmanship to every project.
To find out more about selecting a commercial roofer in Cleveland, Ohio, simply fill out the form on this page and a member of our team will be in touch. Or, you may call us at 440.946.2233.