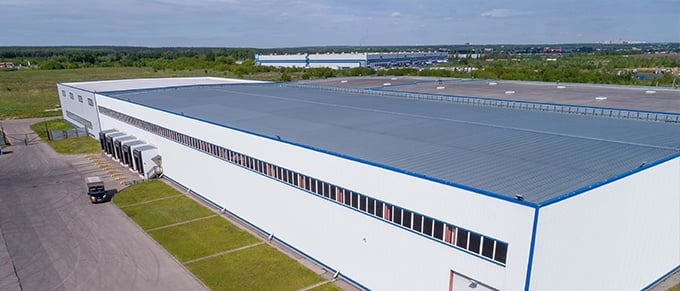 As people begin to emerge from the fog of 2020, there is an eagerness to get back to the "luxury" of planning. For many businesses, that means thinking in terms of capital improvements. Improvements that may have been necessarily delayed in 2020 can be addressed, and 2021 is a great time to put a refresh of your commercial roof back on the table.
Years ago, businesses were limited in their roofing options, and multi-ply asphalt and tar roofs ruled the day. Over the past few decades, however, single-ply membrane systems have slowly begun to dominate the market, and customers now have a number of options when considering a commercial roof replacement. In this blog, we examine single-ply roofing systems—what they are, the most popular types and pros and cons of each type.
What Is a Single-Ply Membrane System?
Single-ply membrane systems are unlike traditional built-up roofing systems, which involve
multiple layers of asphalt and tar paper capped by a layer of rock and gravel. Single-ply membranes come in a roll of sheets, which are laid down onto the substrate—e.g., a roof deck or existing roof system. The substrate is prepared with insulation and topped with a cover board, and the seams are then glued or welded together.
Single-ply membrane roofs are advantageous for many reasons. The single-sheet application
makes it easier to apply and less labor-intensive than a built-up roof, saving considerable installation time. Furthermore, having one membrane layer as opposed to multiple layers of heavy asphalt saves a great deal of weight that can affect the integrity of your structure. Single-ply roofs may also have UV reflective qualities that keep them cool and reduce solar heat gain.
While there is still a place for asphalt roofs, especially for heavy manufacturers or for roofs with numerous penetrations such as HVAC units, skylights and various vents and pipes, the single-ply market is hotter than ever and comes in several types, so you can choose an option that works best for your needs and budget.
The 3 Most Popular Single-Ply Systems
1.) EPDM
Single-ply roofs have been around since EPDM (Ethylene Propylene Diene Terpolymer) was
introduced in the 1960s. With EPDM systems, sheets of rubber are laid down onto
a cover board, the seams are glued or taped together and the sheets are
ballasted – covered with gravel – to keep them from flapping and to hold them
down.
Often referred to as "rubber roofs," EPDM roofs are ubiquitous in cold climates such as Northeast Ohio and Greater Cleveland, mainly because they've been around longer than other single-ply systems. EPDM roofs are preferred by many roofers and have a number of pros as well as cons.
The Pros
A softer sheet like rubber is more pliable and easier to install, decreasing
installation time and the cost of labor.
When a roof has many vents, pipes or other penetrations, the flexibility of the
rubber allows it to be cut to unique specifications.
EPDM roofs have been around for six decades enabling extensive trial-and-error
that's led to continuous improvements.
The Cons
Because it's more pliable, a rubber roof may be more prone to tearing and puncture
damage, especially if those who walk on the roof don't stay on protective walkways.
EPDM roofs have less protection from UV rays and tend to get hot. The heat factor
may be mitigated, however, by the added layer of gravel that is applied to hold the sheets down.
Seams that are glued or taped together may be more vulnerable, and damage from both the elements and necessary foot traffic could lead to leakage.
2.) PVC
PVC (polyvinyl chloride), or plastic as it is more commonly known, as a material has been in use for decades. PVC is strong, heat-resistant and offers a lot of protection against damage from chemicals, fire and the elements. Although it became popular as a liner for swimming pools, the roofing industry eventually realized its usefulness as a high-quality roofing material.
PVC comes in white sheets. Similar to EPDM, PVC sheets are laid on top of a cover board over insulation. The difference is that the seams are heat welded, allowing for better expansion and contraction with the seasons.
The Pros
PVC roofs are durable and resist damage even under fierce weather conditions.
PVC provides superior leak protection and is a great option for roofs for the same
reason it's used as a pool liner—it doesn't leak.
White PVC roofs have reflective properties and are resistant to damage and
discoloration from the sun's UV rays.
The Cons
PVC is rigid and significantly less pliable than rubber, making it more difficult to install.
PVC installation may require a complete roof removal because the substrate must be
clean and flat in order for PVC roofing to adhere properly.
PVC could break or shatter in cold temperatures. Those in the roofing business have heard the legend of roofs shattering in frigid temps, and although unlikely, PVC roofs may not be right for those located in a region prone to extreme cold.
3.) TPO
TPO (Thermoplastic Polyolefin) may be the newbie in roofing, but it's taking the market by storm. As a spiritual successor to PVC, it's a more refined, more modern version of PVC. It is installed in the same manner as a PVC roof, but is a bit more pliable and may not require as pristine a substrate.
The Pros
TPO roofs are white and highly reflective so they resist damage from the sun's UV rays, protect against solar heat gain and keep buildings cool.
The process of heat welding the seams makes TPO sheets better adhered to a roof so
that they don't require ballasting and aren't likely to move and flap.
TPO (and PVC) roofs may have a ponding water provision within their warranties,
whereas EPDM roofs must have proper drainage.
TPO (and PVC) roofs perform better under constant expansion and contraction and are
less apt than EPDM to shrink with time.
TPO roofs may be less prone to breakage and more resistant to fading and dulling than PVC.
The Cons
TPO doesn't have as long a track record as EPDM or PVC roof systems, and roofers aren't yet certain of its long-term reliability.
Although less rigid than PVC, TPO is still more difficult to install for this reason than EPDM.
TPO roofs, and single-ply roofs in general, are not suitable for heavy industrial buildings and better suited for office buildings and the like.
The Bottom Line
Single-ply membrane roofs are a cost-effective and time-saving alternative to traditional
asphalt roofs. To find out more about single-ply membrane roof systems, or to get help in determining what system is best for your business, call Roberts Roofing at (440) 946-2233. Or simply fill out the form on this page and a member of our team will be in touch.
Roberts Roofing Company has been a leading provider of innovative commercial and industrial roofing solutions in Cleveland, Ohio since 1981. We provide commercial roof repair, replacement and maintenance services to companies of all sizes in Ohio and the surrounding region. We offer a combination of technical expertise, custom solutions and quality workmanship for every project.