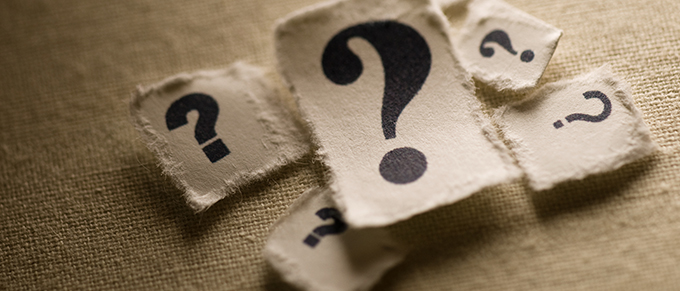 As a building owner, we know you have competing priorities to make sure everything is running as efficiently as possible. If you also have a business to run, it can be easy to overlook the roof that's over your head. Take our quick quiz to learn how much you know. Simply click on a question and a brief answer will appear. We've also provided some helpful links for a fuller explanation.
1. Do you know how old your roof is?
Knowing the age of your roof is important when considering whether to repair or replace your roof. Most commercial roofs are designed as 15-, 20- and, in some cases, 30-year roofs. An aged roof may no longer be under warranty, and that may influence your decision. There are many factors to consider when looking at the overall life cycle of a commercial roof. Your professional roofer can guide you through these decisions.
2. How often should you have your roof inspected?
Roof inspections are critical acts of maintenance that are necessary to prolonging the life of your commercial roof system. Roberts Roofing actually recommends two inspections per year, with any necessary repairs made during those times. These inspections are best performed in the spring and early fall. Regular maintenance and inspections will reveal and allow for the repair of any damage or potential issues that could compromise your roof system.
3. Are you aware of any needed repairs on your commercial or industrial roof?
Roberts Roofing recommends that Northeast Ohio commercial building owners proactively look for signs of damage on their commercial roofs. By spotting a problem early, you could avoid spending thousands of dollars on major roof repair or replacement. Examples include leaks, blistered or cracked roof surfaces, damaged flat roof flashing, mold, odors and interior water stains.
4. Do you know the difference between a commercial and residential roofer?
You wouldn't go see a dentist for a knee problem. The same holds true for commercial roofing repairs and replacement. You want a specialist who understands the intricacies of flat roof systems and has received the proper training. The materials and equipment in use today, when installed properly, will easily surpass that expectation if the roofing contractor installing them has the experience, training, manufacturers' support and experience.
5. Do you understand what your commercial roof warranty covers?
Warranties are the backbone of any roofing job. All quotes should include specifics about the warranty that will be provided. Why is one system covered for 15 years when another is covered for 30 years? You must understand if the warranty is coming from the manufacturer or the contractor. Remember, a low-cost quote means nothing if there is no warranty to back up the work. To learn more, read How Do Commercial Roofing Warranties Work?
6. Is maintenance on my commercial roof optional?
As a commercial or industrial building owner, you need to be budget-conscious—we get that. But think of it this way—standard "No Dollar Limit" warranties require maintenance. You don't want to jeopardize the contract or shorten the lifespan of your flat roof. Whether you are making repairs or need to replace part or all of your roof, now is a great time to implement a maintenance plan for the entire year.
7. When you need roof replacement, do you always need to replace your entire roof?
Many building owners believe roof replacement is an all-or-nothing decision. It's true that many aging roofs call for an entire roof replacement. However, if the majority of your roof is in good condition, total replacement might not be necessary. You may want to consider doing replacement over high-priority areas, such as expensive manufacturing equipment or office space, and hold off on the balance of the roof, using certain preventive measures such as regularly scheduled inspections.
8. Can a layer of gravel be used on a single-ply roof system?
Believe it or not, ballasted (gravel) commercial roof systems have been around since the 1970s. Many new roofing systems have come along since these loose-laid systems were introduced, so it's easy to dismiss ballast as an outdated roofing system. Nothing could be further from the truth. Ballasted roofs are easy to install, can help lower costs and last a long time. Plus, they are sustainable. Ballast can be reused time and again. Read more about the benefits of ballasted roofs.
9. Do you know how to compare roof quotes?
It is often challenging to compare quotes for any job you contract out. This is especially true when it comes to comparing quotes for commercial roofing repairs or replacement. Flat roof contractors in Northeast Ohio may provide quotes that vary widely—the reasons range from their understanding of the job to their work quality and credentials. Make sure you receive multiple quotes and be clear whether the quote is for repair or replacement. Check to see that materials being used are comparable. For example, ask why the commercial roofing contractor is specifying a TPO membrane versus a built-up asphalt roof. Read our 8 Tips for Comparing Commercial Roofing Quotes.
10. Do you know how you can prolong the life of your commercial roof?
The roofing professionals at Roberts Roofing Company recommend five tips for prolonging the life of your flat commercial roof:
Invest in regular roof inspections
Protect your roof surface
Schedule regular maintenance checks
Don't delay repairs
Promote water flow
Did you score well on the quiz? If not, we hope our answers made your commercial roofing IQ soar. Roberts Roofing is committed to helping commercial building owners and facility managers keep their roofs in top operating condition.
Roberts Roofing Company has been a leading provider of innovative commercial and industrial roofing solutions in Cleveland, Ohio since 1981. We provide commercial repair, replacement and maintenance to serve companies of all sizes in Ohio and the surrounding region, offering a combination of technical expertise, custom solutions and quality workmanship for every project.
To find out more about selecting a commercial roofer in Cleveland, Ohio, simply fill out the form on this page and a member of our team will be in touch. Or, you may call us at (440) 946-2233.