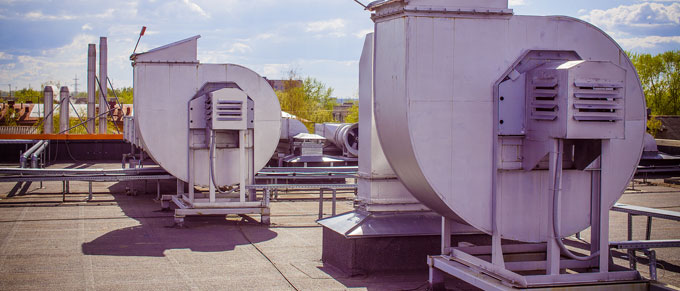 There are many options when selecting the right roofing system for your commercial facility. Commercial roofing became a specialized trade in the mid-19th century. As a result, many roofing systems have come and gone over the years. However, only two variants hold up the longest and provide the best value.
The first thing you want to consider is the type of facility you own. Is it a major manufacturing facility with many rooftop exhaust fans and units that require constant foot traffic to maintain them? Is it a warehouse used for storing products, equipment or materials? Is it an office space where the comfort of individuals is a priority? Next, factor in your ownership intentions—do you plan to keep the facility indefinitely, or do you plan on selling in the near to immediate future? Finally, define your budgetary parameters. From there, you can evaluate roofing system types for potential inclusion in your overall project framework.
Single-ply Roofing Systems
Single-ply roofing systems are the current preference in the roofing world. They are affordably priced, durable and can be warranted in excess of 30 years. They are comprised of products like TPO, PVC and EPDM. These products are much cleaner to apply than raw asphalt-based products and in the case of TPO, are rated to hold up to the accumulation of standing water. While TPO and PVC are primarily available in white to reflect sunlight and keep your roof cool, other assorted colors are available to suit your facility. These products are best suited for offices and warehouses where roof traffic is limited, but they also are compatible with essentially any commercial structure.
Asphalt-based Roofing Systems
Asphalt-based roofing systems have been around for over a century, and were previously the industrial roofing standard. They are thick, messy (a good thing, since that means multiple layers of heated or cold-based asphalt) and, most important, resilient. When properly maintained, it's not uncommon for a built-up asphalt roof to last over 50 years.
Asphalt-based roofs are composed of layers of modified or fiberglass rolls, which are set and covered in hot or cold asphalt and then capped with gravel or an additional asphalt-based granulated cap sheet. They are commonly found on educational institutions and manufacturing facilities. The pricing for asphalt-based roofing systems can be volatile at times because they are linked to the current world values of petroleum—the primary ingredient in their required materials. That being said, they are sometimes slightly more expensive than their single-ply counterparts, but not by much, depending on the exact specification applied.
No single system fits every building. Your roofing contractor should be able to accurately assess which system is the best fit for your facility. By knowing more about these two variants, you can be better prepared for what to expect when the time comes to replace your commercial roofing system.
To learn more about commercial roofing systems in Cleveland, Ohio, simply fill out the form on this page and a member of our team will be in touch. Or, you may call us at 440.946.2233.