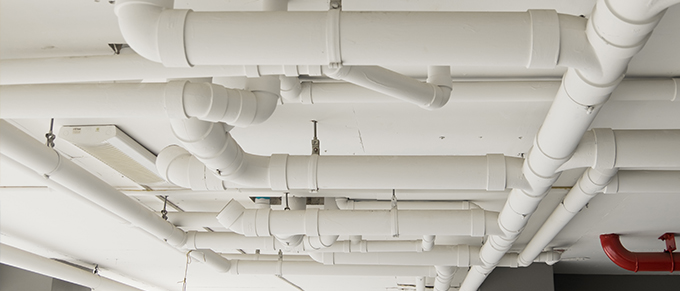 Most commercial building owners are well-acquainted with the advantages of flat roofs. In addition to working well with the overall design of the building, a flat roof is durable and performs well under environmental stress, such as hail and strong wind. If you want to get the best performance out of your commercial or industrial roofing system, however, don't forget about drainage. Having the right roof drainage can help ensure the integrity of your flat roof's roofing system.
While slanted or sloped roofs allow water to drain automatically, flat commercial and industrial roofs must incorporate a built-in drainage system to remove moisture and debris that accumulates from the surrounding environment. Poor drainage can lead to pooled water that will eventually cause leaks or other structural damage leading to potentially costly commercial roof repairs or replacement.
There are three main drainage solutions available for flat roofs, and your commercial roofing professional can help you weigh the benefits of each to help make the best decision. It is important to consider durability, cost and maintenance. Let's take a look at the three drainage options for flat roofs.
Interior Drain Systems
Interior drains, which are a very common form of drainage for commercial systems, are typically placed in the areas of the roof collecting the most water. Then they travel through pipes until the water runs out through a gutter or downspout, protecting walls from damage. Drain systems can be customized to meet your particular needs. Interior drains can be expensive, and just like any other drain, they can become clogged with debris. To help alleviate clogs, drains typically have a strainer to prevent leaves and debris from getting in the pipes. Be sure to schedule routine inspections and roof maintenance with your professional roofer, who can easily identify and remedy any clogs before they become an expensive problem.
Gutters
We're all familiar with gutters. Another commonly used drainage solution for flat roofs, gutters are also cost-efficient. They simply divert water into a downspout that drains the water far enough away from the building's foundation that the water will not damage other parts of the building. Just keep in mind that gutters accumulate a fair amount of debris, so they require consistent cleaning. This includes the ice that easily accumulates in our Northeast Ohio winters. The last thing you want is a clog, which can easily stop the water from flowing properly.
Scuppers
With scuppers, large square openings are made along the roof edge that drain excess water from the side of the commercial building. In many cases, downspouts are installed right below these openings to drain water away from the building. Scuppers, which can be combined with gutters and downspouts to direct water flow, are typically cost-effective and easy to maintain. With larger scuppers, you typically avoid the type of clogs you can experience with gutters and some interior drain systems. However, keep in mind that the downspouts can become clogged with debris. In regions like ours, scuppers can sometimes be ineffective because of the amount of heavy rain and thawing ice.
Experienced, professional commercial roofers can help you determine the best drainage system for your roof. No matter what drainage system you choose, regular maintenance inspections are essential to proper performance.
Roberts Roofing Company has been a leading provider of innovative commercial and industrial roofing solutions in Cleveland, Ohio since 1981. We provide commercial and industrial roof repair, replacement and maintenance to serve companies of all sizes in Ohio and the surrounding region, offering a combination of technical expertise, custom solutions and quality workmanship for every project.
To find out more about selecting a commercial or industrial roofing contractor in Cleveland, Ohio, simply fill out the form on this page and a member of our team will be in touch. Or, you may call us at (440) 946-2233.