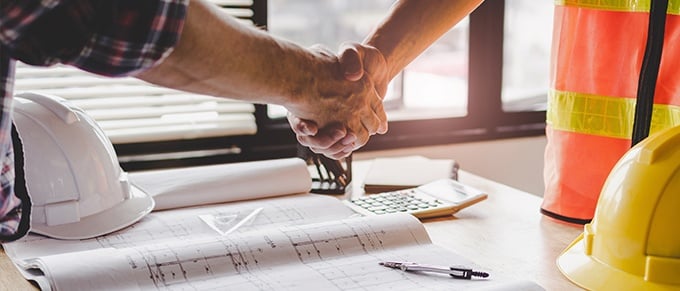 As states across the U.S. grapple with finding solutions to the skilled worker shortage, it is up to those industries most affected to find ways to recruit and train new employees. From real estate and construction to commercial roofing, contractors and job foremen are in demand,
and it will take the right combination of onboarding and training to begin to change perceptions of careers in these industries.
Proactive Solutions
In the commercial and industrial roofing industry, businesses are already partnering with vocational and high schools – and even colleges – to offer apprenticeships, mentoring, incentives and training. This comes after years of secondary schools only preparing students for college educations and white-collar professions. Now schools are recognizing a need to
also offer vocational training and technical skills. At Roberts Roofing, we augment all these approaches with a strong emphasis on training, not just when a new employee begins with us, but throughout their career as they advance in their positions.
Training is Key for Commercial Roofing Jobs
Every week, we hold on-site toolbox meetings, where we provide new and current staff with the most up-to-date information on roofing techniques, equipment and materials. Safety is extremely important to us, and it's one of the concerns some candidates may have. Our continuous training emphasizes safety standards and precautions and is the cornerstone of our onboarding practices. In fact, we invite our materials suppliers in-house so that new employees can learn firsthand how to properly apply the latest commercial roofing techniques and application processes.
Commercial Roofing Customers Depend on Qualified Workers
We're proud that all 35 of our roofing professionals hold virtually every certification that our projects require, from operating machinery to removing materials. Our customers depend on us to have fully trained employees, and we believe that our strong emphasis on roofing education and safety has been the key to our continued success.
We believe it's time to change the perception young people have of the trades because competitive pay, full benefits, upward mobility and ongoing learning all add up to the potential for a long-term rewarding career.
Why Join the Roberts Roofing Team?
Roberts Roofing, a leading local Cleveland roofing contractor, welcomes new and experienced dependable professional roofers, roofing foremen and roofing helpers. We are a family-run business and we highly value our employee family.
Our benefits include:
Long-term career opportunities
Competitive pay
Professional training
401(k)
Profit sharing
Quarterly bonuses based on attendance
Paid holidays, sick days and vacation days
Interested in a Career With Roberts Roofing?
Roberts Roofing Company has been a leading provider of innovative
commercial and industrial roofing solutions in Cleveland, Ohio since 1981. We
provide commercial repair, replacement and maintenance to serve companies of
all sizes in Ohio and the surrounding region, offering a combination of
technical expertise, custom solutions and quality workmanship to every project.
To learn more about open positions, please visit the Careers page on our website. To find out more about selecting a commercial roofer in Cleveland, Ohio, simply fill out the form on this page and a member of our team will be in touch. Or, you may call us at 440.508.4068.