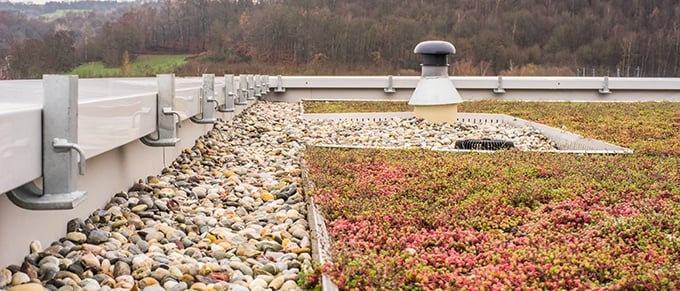 While "green building" is typically associated with houses, there are federal tax incentives for commercial building owners who go green, from their foundations right up to their flat roofs. In fact, Congress and the last several administrations have put the spotlight on energy independence, most notably through the Energy-Efficient Commercial Buildings Deduction, more commonly known as the section 179D tax deduction. This tax incentive is based on the installation of energy-efficient assets, including the building envelope, HVAC equipment and lighting.
As a commercial building owner, you should consider energy-efficient products throughout your structure, including green approaches to your rooftop. There is an ever-increasing number of green building certifications, including ENERGY Star®, BREEAM and, of course, LEED. In fact, green roofs are often a necessary step to attaining LEED certification.
So why should you take this approach? According to one recent survey, one-quarter of building owners see certification as a way to reduce operational costs, attract tenants, have healthier building and benefit the overall environment. Improved energy and water efficiency mean decreased operating expenses. Other benefits include fewer maintenance issues and a more resilient building. And that takes us back to the roof.
Sustainable Solutions
Sustainability in roofing has become far more popular than it was 10 years ago. The latest technologies make it easier for commercial roofing contractors to offer these options to their customers. Lower energy costs, less frequent roof replacement because of increased durability and reduced stormwater management costs.
With an increased focus on sustainability, commercial roofers like Roberts Roofing Company strive to utilize sustainable roofing systems and practices through the roofing materials manufacturers we work with and the procedures we follow.
When you are constructing a new building or undergoing a complete renovation – including roof replacement – consider the drainage system, waterproofing and other elements on your rooftop. Green roofs are typically ballasted roofs, consisting of a waterproofing membrane, growing medium (soil) and plants. You'll want a high-quality roofing membrane, perhaps additional insulation and a drainage layer.
It's Cool
One of the chief reasons for having a green roof is to prevent heat from penetrating the roof during the summer and to reduce heat loss during our cold Northeast Ohio winter months. With a green roof you can also reduce the amount of water run-off. Most of all, you increase the roof lifespan. At Roberts Roofing, we offer "cool roof" solutions that can lower the temperature of your existing roof through highly reflective roof coatings that deflect solar rays. Energy-efficiency improvements possible with added insulation and cool roofing help us bring green solutions to our commercial and industrial roofing customers.
Our professional roofing contractors work closely with our customers to help them meet the requirements of their certifications. Be sure to let your roofing contractor know your sustainability objectives, so we can support new technologies in energy efficiency. In addition to federal incentives, we'll help you identify state and local incentives for roof systems that utilize green products.
Roberts Roofing Company has been a leading provider of innovative commercial and industrial roofing solutions in Cleveland, Ohio since 1981. We provide commercial repair,
replacement and maintenance to serve companies of all sizes in Ohio and the surrounding region, offering a combination of technical expertise, custom solutions and quality workmanship for every project.
To find out more about selecting a commercial roofing contractor in Cleveland, Ohio, simply fill out the form on this page and a member of our team will be in touch. Or, you may
call us at (440) 946-2233.