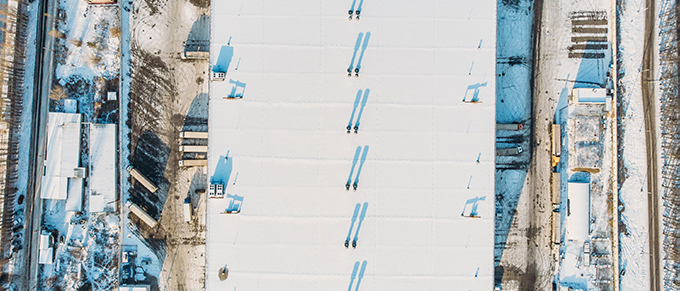 It's a new year. Did you make some personal resolutions about the year ahead? Likely, your roof was not at the top of that list! However, when you consider the investment you have put into your building, not to mention the contents, there are good reasons to become better acquainted with the flat roof that protects your business. With a look ahead to a prosperous year, here are some things to keep in mind:
Maintenance is key: Let's start with the basics. Hopefully you already have scheduled annual maintenance checks of your industrial or commercial roof. Still, far too many building owners wait until there is a problem to contact a professional roofer. Did you know that more than 80 percent of roofs are replaced prematurely? In a majority of cases, the reason is the failure to follow a regular maintenance schedule. We at Roberts Roofing recommend two maintenance checks, one in spring and the other in fall.
Hire the right professional roofer: How much do you or your facilities manager really know about the contractors you are hiring? Is their specialty commercial and industrial roofing, or do they also work on residential roofs? This is important—a residential roofer will not have the required level of training and expertise to address industrial and commercial roofing systems. Today's state and federal regulations require commercial roofing contractors to train their workforce in hazard communications, fall safety, rigging and signaling. So ask about the training and certifications the crew has. Do they have experience in troubleshooting challenging industrial/commercial environments? Do they have specialized equipment you may need to get the job done? You also should expect clear communications from your commercial roofer.
Recognize the signs that your roof needs attention: Leaks are an obvious sign that something has gone awry, but do you know the other signs that indicate you may need to contact a commercial roofer for your roof? You need to use all your senses to detect potential problems. Looks at the ceilings of your building. Do you smell foul odors? They may indicate mold, which could be a sign that water is breaching your roofing systems.


Have a working knowledge of roofing materials: Did you know that the color of the membrane that protects your building makes a big difference in the overall life of your roof? What R-value is needed? If you are going to replace your roof, which system should you use? A reputable commercial and industrial roofing contractor should fully explain your options so that you are certain you are making the right choice.
Know your options: Can you get by with roof repairs instead of a replacement? Or are so many repairs needed now or in the near future that it's more cost-effective to have your roof replaced? If you need a replacement, do you need a full replacement, or can you get by with a partial replacement? As you can see, there are many variables. You'll want to work with a commercial roofing professional you can trust to accurately assess the situation.
With a business to run, no one expects building owners or facility managers to understand every nuance of their industrial or commercial roof. However, having a working knowledge will go a long way toward making decisions that will help keep costs down and get the professional attention you need. The first step begins with scheduling an appointment for an inspection. Here's to having a great year ahead.
Roberts Roofing Company has been a leading provider of innovative commercial and industrial roofing solutions in Cleveland, Ohio since 1981. We provide commercial repair, replacement and maintenance to serve companies of all sizes in Ohio and the surrounding region, offering a combination of technical expertise, custom solutions and quality workmanship for every project.
To find out more about selecting a commercial roofer in Cleveland, Ohio, simply fill out the form on this page and a member of our team will be in touch. Or, you may call us at (440) 946-2233.