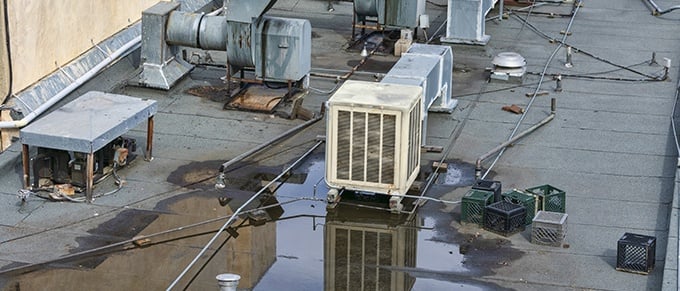 It's autumn in Northeast Ohio. Along with the beautiful leaves and fall activities, we also experience a substantial amount of rainfall. If you haven't had your roof inspected lately by a certified commercial roofing contractor, a torrential downpour may result in some telltale signs—and potentially more expensive repairs.
Have you ever seen a slight trickle of water coming from your ceiling or walls? Don't make the mistake of assuming a small amount of water is a small problem. The primary reasons commercial roof leaks occur are when the roof membrane or flashing is damaged, or if you have pooled water on your flat roof, meaning the drainage system is not functioning. For example, ponding water will eventually cause saturating areas that can result in a leak inside your commercial building. Believe it or not, each square foot of ponding water adds nearly five pounds to the roof per square foot.
#1:
Damage to Your Interior
Consider the costs to repair the interior of your building. This can include tile and carpet replacement and addressing damage to furniture and machinery. If you notice water stains on the ceiling or walls of an upper floor, you need to confer with your commercial roofer.
#2:
Health Concerns
Mold and mildew will also stain tiles and floors, but it can also lead to serious health issues. Once you have discovered mold, every item that is exposed will need to be replaced or renovated. Be aware of any foul odors.
#3:
Accident Risk
If you spilled a bucket of water inside your home, you would clean it up to avoid accidents. If even a small amount of water starts pooling on the floor of your building, you are risking falls and possibly legal action stemming from negligence.
Remember: A simple $500 leak repair can morph into a several-thousand-dollar
repair if you let it go for even a short time.
Small problems with your flat roof can indicate much larger problems. The problem is that they can be difficult to detect at first. Regular maintenance programs and annual inspections will catch problems early. For example, it is critical that you have the right roof drainage to ensure the integrity of your roofing system. You don't want a damaged or low-quality membrane to lead to lost job time and high costs. By ignoring signs of moisture, you will be
exacerbating the problem leading to costly roof repairs or even commercial roof
replacement.
Roberts Roofing Company has been a leading provider of innovative commercial and industrial roofing solutions in Cleveland, Ohio since 1981. We provide commercial repair, replacement and maintenance to serve companies of all sizes in Ohio and the surrounding region, offering a combination of technical expertise, custom solutions and quality workmanship for every project.
To find out more about selecting a commercial roofer in Cleveland, Ohio, simply fill out the form on this page and a member of our team will be in touch. Or, you may call us at (440) 946-2233.