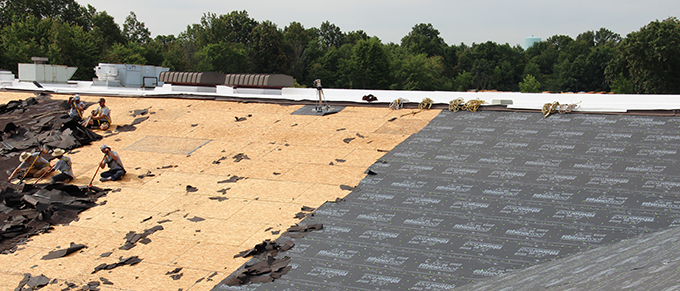 Whether you are considering commercial roof repair, replacement or maintenance, making the decision of which commercial roofer to hire is essential. You will want to make sure you are hiring an experienced, reliable and professional company for long-lasting, cost-efficient results.
Here are nine important factors to consider before making your decision:
Expertise
There are many successful residential roofing contractors who do an excellent job. However, residential and commercial roofing are as different as night and day when it comes to materials and application techniques. Residential roofing companies do not have the ability to properly install a commercial industrial roofing system that will remain watertight for a minimum of 20 years. The materials and equipment in use today, when installed properly, will easily surpass that expectation if the roofing contractor installing them has the experience, training, manufacturers' support and experience.
Training
Successful commercial roofers spend hours of continuous training. Today's state and federal regulations require commercial roofing contractors to have a competent person train their workforce in hazard communication, fall safety, rigging and signaling. The trainer also covers proper job set-up and training to operate equipment ranging from telehandlers to lift platforms to large cranes and trucks. Your commercial roofing contractor should also have regular training required by the material manufacturers to stay updated on the latest materials and techniques. This will help the roofer guarantee a long-lasting roof system and stay in compliance with the manufacturers' installation requirements.
Communication
Reliable commercial roofing companies will thoroughly communicate their approach to a job so that you can minimize disruption to your workforce and plan for any necessary rerouting. You should know whether or not your roofer is going to show up on a day with questionable weather. If the crew is running late, you should expect a call well ahead of arrival time. Good roofing contractors are in touch with their customers at all times. You have a right to expect your commercial roofer to be on time, on budget, with minimal disturbance.
Safety
Your commercial roofer should train its staff and stay updated on safety and injury prevention techniques, not just the safety of the workers but the safety of your building and the employees inside of it. For example, Roberts Roofing conducts twice monthly mandatory safety meetings December through April to review job-specific safety issues and industry updates. We also hold weekly job-specific meetings on the worksite through the duration of your project. Before a job begins, your roofer should review safety plans with your facility personnel. For example, we incorporate your customers' safety policies into our weekly meetings.
Innovation
There is no one-size-fit-all approach to roofing jobs. Roofs vary in dimension, design, age, materials, problem areas and special considerations below the area over which we are working (i.e., clean rooms, vibration-sensitive manufacturing process or human concerns, such as the need for quiet in health care settings, offices and schools). Commercial roofing is field-fabricated onsite to fit your particular building. While the materials are the same, the difference is the experience level of the field technicians who are fabricating them to fit your roof. You want a commercial roofer with the experience level to consider your particular needs and then customize a solution for you so that you can avoid problems that will occur in later years, costing you unnecessary expense.
Maintenance
The contractor you choose to work with is paramount to the life expectancy of your roof. Your contractor's maintenance crews should hold up-to-date certification in roofing repair technique and training and be knowledgeable in all types of roof systems, including TPO, BUR and EPDM. Further, you want to hire commercial roof maintenance technicians who are trained and experienced in investigating potential problems that will cause roof leaks in the future. They should know what to look for and how to repair the problem according to the roofing system manufacturer's specifications.
Commercial Roofing Equipment
You will want to be sure your roofer has the right equipment for your specific needs. For example, Roberts Roofing has over $2 million in equipment to meet the needs of all the customers we serve. Roberts Roofing believes investing in the right equipment makes the job safer for our employees and the customers we work for. For example, we would use a crane to load a 500-lb. piece of equipment onto the roof instead of pulling it up the side of your building using a rope.
Compliance
All industrial roofers should be in compliance with federal, state and local requirements and roofing guidelines, and hold every updated certification that a project may require, such as proper crane operation or how to remove roofing that contains asbestos. Most roofing companies have to comply with the drug-free workplace requirement which requires random drug testing that is documented according to state guidelines.
Qualifications
Your commercial roofer should be in good standing with the top commercial roofing manufacturers. The roofer should have written documentation stating that they are approved contractors to install the manufacturer's roofing systems and provide the highest warranty available from that commercial roofing manufacturer. If approved, your commercial roofer will have that documentation with a current date. You should also ask for a list of completed jobs that are similar or greater in scope of work than your project. Ask some questions, require documentation and get to know the contractors bidding on your roof project. Better yet, do some background checking on references and – when possible – visit the contractor's headquarters. Ask to see a job that is currently in progress. The time and effort you invest will be well worth a roof that will produce returns for more than 20 years.
Roberts Roofing Company has been a leading provider of innovative commercial and industrial roofing solutions in Cleveland, Ohio since 1981. We provide commercial repair, replacement and maintenance to serve companies of all sizes In Ohio and the surrounding region, offering a combination of technical expertise, custom solutions and quality workmanship to every project.
To find out more about selecting a commercial roofer in Cleveland, Ohio, simply fill out the form on this page and a member of our team will be in touch. Or, you may call us at 440.946.2233.