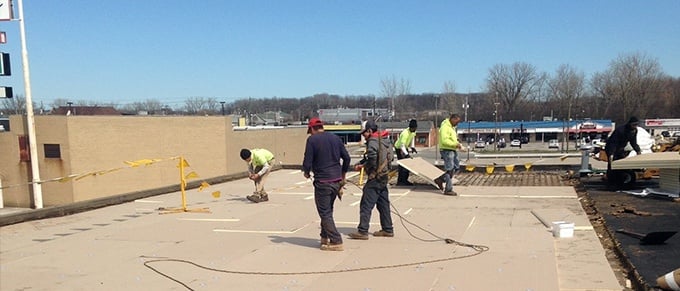 The commercial and industrial roofing industry has experienced a number of changes over the past decade. Similar to other industries, the lack of skilled workers has certainly made it more competitive to hire outstanding professionals who are dedicated to their jobs. Still, we know from working in this industry for more than 40 years, there are exceptional candidates who want to build their careers with us.
As we currently seek candidates to add to our team, we take pause to consider the qualities a true professional roofer should possess as well as what Roberts Roofing brings to the table as an employer of choice.
The Ideal Candidate
Minimum of five years' experience as a professional commercial/industrial roofer with a legitimate roofing contractor
Completed projects on jobs of 10,000 square feet or more
Experience in working with a crew of five or more
Must be able to pass all drug tests
Flexibility to work weekends when the project requires
Determination to see a project through to completion
Ability to troubleshoot problems
Positive attitude and ability to work well with crewmates
Respect for client's property and the company they are working with
Why Choose Roberts Roofing?
Solid reputation as a Northeast Ohio professional roofing company for 40 years
Steady work, established client base and long-term working relationships
Well-maintained modern equipment means we can handle any project
We have never missed a payroll
Proficient in built-up asphalt and single-ply systems, installing warranted manufacturers' systems like GAF, Johns Manville, Carlisle, Soprema and Siplast, among others
Outstanding compensation and benefits package including:

Paid vacation and sick days

Supportive, family atmosphere
Ongoing training and continuous learning
We value each and every employee and want to hire people who will spend their careers with us. Learn more about career opportunities at Roberts Roofing.
Roberts Roofing Company has been a leading provider of innovative commercial and industrial roofing solutions in Cleveland, Ohio since 1981. We provide commercial roof repair,
replacement and maintenance services to serve companies of all sizes in Ohio and the surrounding region, offering a combination of technical expertise, custom solutions and quality workmanship for every project.
To find out more about selecting a commercial and industrial roofing contractor in Cleveland, Ohio, simply fill out the form on this page and a member of our team will be in touch. Or, you may call us at (440) 946-2233.