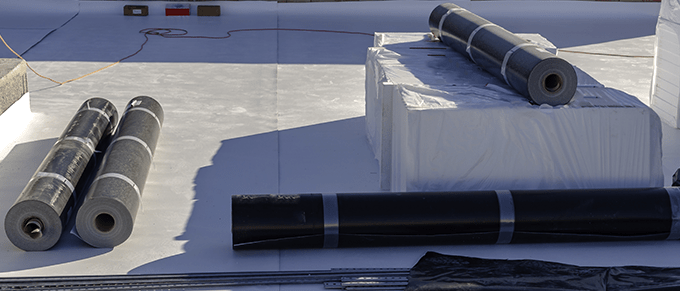 Thermoplastic polyolefin, or TPO, has been a popular and affordable roofing system choice for commercial building owners for more than three decades. In fact, TPO is one of the fastest growing commercial roofing systems today, and one that Roberts Roofing uses for a great deal of our roofing replacement work. Like any roofing system, it has its pluses and minuses. How do you decide if this single-ply membrane is right for your roof?
TPO Advantages
TPOs, which include a TPO polymer base, a polyester-reinforced fabric
middle (crim) and a TPO-compounded top ply, are highly efficient for flat
roofs. TPO membranes are highly durable, flexible and resistant to tears. They
are also known for their ability to stand up to accumulations of dirt and mold.
While these are all good traits, TPOs are best known for their energy efficiency
because they are made to reflect UV rays that can make a building hot. In other
words, TPO roofs make it much easier to keep a building cool, relieving the
load on the building's HVAC system. In cold environments, TPO roofing can
absorb heat.
TPO roofing system advantages:
Adaptability
Low cost
Durability
Energy-efficient (cost savings)
Highly resistant to debris build-up
White membrane's reflective surface exceeds EPA's ENERGY STAR requirements
Unlike asphalt and rubber, TPO roofing is warrantable on roof decking systems that
have poor drainage (ponding water issues)
For the professional commercial roofer, TPO roofing is easy to install because it is lightweight and has fewer seams than other roofing systems. For our customers, that means less time to complete the job and cost savings that can be passed on.
TPO Disadvantages
If you have a high volume of foot traffic on your commercial or industrial roof, a TPO roofing system is not your best choice. While TPO systems are fine for regular foot traffic, the membrane can be punctured when there is heavy foot traffic, when gravel is used and even if tools are dropped. However, it is possible to circumvent these problems with an additional layer of insulation (or a thicker TPO membrane, e.g., .080 Mil) over an appropriate primer and gain the protection you need. TPO's flexible membrane allows it to resist tears and impact damage.
Like any roofing system, the sun's UV rays can cause damage. With TPO systems, the damage typically is to the adhesives used to attach the membrane to the substrate, which creates the waterproof seal. Roberts Roofing overlaps membrane sheets when we install TPO roofing systems to provide protection against damage from UV rays.
Warranties Offer Protection to Commercial Building Owners
No matter which roofing system you choose, it is critical that you purchase a commercial roof warranty, which is typically between 15 and 30 years. It's relatively easy to repair TPO roofing problems, such as leaks or damage, and the warranty will pay for itself and avoid the need for costly repairs over the life of the roofing system.
Conclusion
It is important to discuss all roofing options with an experienced, professional roofing contractor. Roberts Roofing Company has been a leading provider of innovative commercial and industrial roofing solutions in Cleveland, Ohio since 1981. We provide commercial repair, replacement and maintenance to serve companies of all sizes in Ohio and the surrounding region, offering a combination of technical expertise, custom solutions and quality workmanship to every project.
To find out more about selecting a commercial roofer in Cleveland, Ohio, simply fill out the
form on this page and a member of our team will be in touch. Or, you may call us at 440.946.2233.